D/S Varangberg
Updated Jan. 13-2012
To Varangberg on the "Ships starting with V" page.

Survivors & Casualties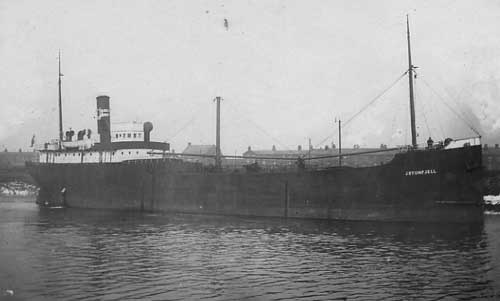 When named Jotunfjell - Source: Bjørn Milde's postcard collection.
Another picture is available on this external page (click in it to make it larger).
Historical Collections of the Great Lakes (external link) has a picture of the ship when Morris Adler (while building). Type "Varangberg" in the field for vessel, then on the page that comes up, click in the little box with the item number. The next page has technical details on the ship and a picture thumbnail - clicking on the thumbnail will bring up the photo. It also lists all her owners until lost, and has info on her fate. Typing "Norway" in the search field for Registry will bring up some other Norwegian ships listed on the site, but please note that the site has more Norwegian ships than the ones resulting from this search.


Owner: A/S Malmfart.
Manager: Reinh. Mithassel, Oslo.
Tonnage: 2842 gt, 1509 net, 4700 tdwt.
Call Sign: LCPJ
Built by Great Lakes Engineering Works, Ohio in 1915. Previous names: Morris Adler until 1916, Jotunfjell until 1934 for Olsen & Ugelstad, Oslo (lengthened 1934), Varangfjell until 1939 (same managers), then sold to Reinh. Mithassel, Oslo and renamed Varangberg.
The first external page that I've linked to above has more details, saying she was delivered as Morris Adler in Jan.-1915 to Passolt Steamship Co. Inc., New York. Owned from Jan.-1916 by Ejnar Stensrud, Skien, renamed Tip Top. From Febr.-1916, sailed as Jotunfjell for A/S Jotunfjell (Olsen & Ugelstad), Kristiania. Torpedoed in Jan.-1917 SW of Penmarch, towed to Lorient and repaired. Owned from Jan.-1919 by A/S Luksefjell (Olsen & Ugelstad), Kristiania, no name change. In Febr.-1934, she ran aground south of Brønnøysund, salvaged by Stærkoder and Parat, repaired and lengthened, 4500 tdwt, 2842 gt, 1509 net, 282.8'. Renamed Varangfjell in Sept.- 1934. Owned from Nov.-1939 by A/S Malmfart (Reinh. Mithassel), Oslo, renamed Varangberg.


Captain: Edward Steen Stenersen.


Her voyages are listed on these original images from the Norwegian National Archives:
Page 1 | Page 2


Please compare the above voyages with Arnold Hague's Voyage Record below.
Voyage Record
From Febr.-1940 to Sept.-1941:
(Received from Don Kindell - His source: The late Arnold Hague's database).
Follow the convoy links provided for more information on each.
Errors do exist, and several voyages are missing - see also the narrative below.
1940
Febr. 28
Methil
Norwegian Waters
March 2
ON 16
–
March 27
Norwegian Waters
Methil
March 30
HN 22
Missing movements, Page 1
May 27
Southend
–
–
OA 156
For Nantes.
Dispersed May 30.
Convoy available at OA 156
(external link)
Page 1 gives arrival May 31
(also, missing voyages).
See also narrative below.
July 7
Gibraltar
Liverpool
July 16
HG 37
Missing movements, Page 1
Aug. 13
Liverpool
–
–
OB 197
For Tampa.
Dispersed Aug. 16.
Convoy available at OB 197
(external link)
Page 1 gives arrival Sept. 3, left Sept. 5.
Sept. 19
Sydney, C.B.
Liverpool*
Oct. 4
SC 5
*Arrived Clyde Oct. 3, left Oct. 7
(Page 1).
Oct. 13
Methil
Hull
Oct. 17*
FS 308
*Page 1 gives arrival Oct. 14.
Convoy available at FS convoys
(external link)
Missing movements, Page 1.
Nov. 18
Methil
Oban
Nov. 22
EN 28/1
Convoy available at EN convoys
(external link)
Nov. 24
Oban
Oban
Nov. 26
OB 249
Returned.
Convoy available at OB 249
(external link)
See also narrative.
Dec. 3
Oban
–
–
OB 253
Returned
(Page 1).
Convoy available at OB 253
(external link)
Dec. 16*
Liverpool*
–
–
OB 260
*From Oban, Dec. 17
(Page 1).
Dispersed Dec. 19.
Convoy available at OB 260
(external link)
Again, see also narrative.
Page 1 gives arrival Freetown Jan. 9-1941.
1941
Jan. 30
Freetown
–
–
SLS 64
Dispersed Febr. 12.
A. Hague says:
Arrived Liverpool Febr. 19*.
*This does not match up with the information found on Page 1, which says she arrived Gibraltar Febr. 17. See also narrative below.
Febr. 20
Gibraltar
Liverpool*
March 12*
HG 54
–
*Convoy HG 54 did arrive Liverpool on March 12, but Varangberg stopped at Oban March 11.
March 10*
Clyde*
Methil
March 14
WN 97
Convoy available at WN convoys
(external link)
*Left Oban March 12, left Methil March 17
(Page 1)
Apr. 4
Middlesbrough
Blyth
Apr. 4
EC 2
Convoy available at EC convoys
(external link)
Apr. 13
Blyth
Oban
Apr. 17
EC 6
Convoy available at link above
Apr. 27
Oban
Gibraltar*
May 10*
OG 60
For Huelva.
*Page 2 gives arrival Huelva May 11
(also, missing voyage).
Convoy will be added.
See ships in OG convoys
May 25
Gibraltar
Liverpool*
June 9
HG 63
*Arrived Clyde.
Missing movements, Page 2
June 24*
Liverpool*
Gibraltar
July 8
OG 66
*From Clyde June 25
(Page 2).
Convoy will be added.
See link above.
Missing movements, Page 2
July 28
Gibraltar
Liverpool
Aug. 11
HG 69
Convoy available at HG convoys
(external link)
Missing movements, Page 2
Aug. 29
Liverpool
Gibraltar
Sept. 13
OG 73
On to Melilla next day
(Page 2).
Convoy will be added.
See ships in OG convoys
Sept. 17
Gibraltar
–
–
HG 73
See also HG 73
(external link)
Sunk - See "Final Fate" below
For information on voyages made in between those mentioned here, please see the documents received from the National Archives of Norway and A. Hague's Voyage Record above. Follow the convoy links provided for more details on them; other Norwegian ships also took part.

A. Hague has included Varangberg in the U.K.-Norway Convoy ON 16 at the end of Febr.-1940. At the end of March, shortly before the German invasion of Norway, we find her in Convoy HN 22 from Norway to the U.K., bound for Middlesbrough with ore. She arrived her destination on Apr. 1, according to Page 1 of the archive documents, which indicates that she had started this voyage in Kirkenes in the north of Norway. She subsequently remained in Middlesbrough for several weeks.

She briefly sailed in Convoy OA 156, which left Southend on May 27 and was dispersed 3 days later. She was bound for Nantes, arriving there on May 31. The Norwegian Akershus, Inger Lise, Bjørkhaug and Ruth I are also listed in this convoy, see the external link provided in the Voyage Record.

A French visitor to my website has told me that a ship named Varangfjell sailed from Le Verdon on June 17-1940 in Convoy 65-X under French escort, arriving Casablanca June 23. Varangfjell had been renamed Varangberg by then, but as far as I can tell it's the same ship - again, see Page 1. Here is Hague's listing for Convoy 65 X (external link), and as can be seen, she's indeed listed as Varangfjell. The Norwegian Taranger is also included. Early the following month, we find Varangberg in Convoy HG 37, which left Gibraltar on July 7 and arrived Liverpool on the 16th. She had a cargo of phosphates and was bound for Garston, where she arrived on July 19. The Norwegian Eikhaug and Spes also took part.

Together with Erica, Grey County, Inga I, Jamaica, Nova and Sandar, she later joined Convoy OB 197, departing Liverpool on Aug. 13, dispersed Aug. 16, Varangberg arriving Tampa on Sept. 3. A couple of days later, she proceeded to Sydney, C.B. and from there she joined the slow Convoy SC 5 on Sept. 18. As will be seen when following the link, she had again been in the company of several other Norwegian ships, including Erica and Inga I from OB 197. Varangberg had a cargo of phosphates for Hull, where she arrived (via Clyde and Methil Roads) on Oct. 14, remaining there for a month (Page 1). With destination Freetown, she's mentioned in Convoy OB 249, which originated in Liverpool on Nov. 24, but she returned to port*. At the external website that I've linked to further down on this page, she shows up again as cancelled from Convoy OB 251 on Nov. 28, then joined OB 253, which started out in Liverpool on Dec. 2, but she again returned. She eventually got away with Convoy OB 260, originating in Liverpool on Dec. 16, dispersed Dec. 19**, Varangberg arriving Freetown on Jan. 9-1941. See the external links provided in the Voyage Record for the names of other ships taking part, Bjørkhaug (returned) and Høyanger are also named in OB 260.
* Going back to Page 1 of the archive documents, we see that Varangeberg sailed from Oban on Nov. 25, put back on the 29th(?), left Oban again on Dec. 3, returned on the 7th "owing to weather", departing again on Dec. 17, with arrival Freetown on Jan. 9-1941, as already mentioned.

** On Dec. 20-1940, she had reported being attacked by a U-boat in position 55 30N 19 25W. I've been told (by Rainer Kolbicz, Uboat.net) that the attacker was U-95 (Schreiber - external link). 2 torpedoes missed at 14:53 and 14:57, and Schreiber decided not to attack again because the second attack had been noticed aboard the ship and rough seas prevented the use of the deck gun.
Varangberg narrowly escaped Admiral Hipper's attack on Convoy SLS 64, which had left Freetown on Jan. 30-1941. (Hipper had been notified of Convoy HG 53 and had been given orders to attack it, so that when SLS 64 appeared it was assumed this was the reported convoy). Please follow the link to SLS 64 for details of the ensuing battle - see also Borgestad, which was sunk. Varangberg eventually reached Gibraltar unharmed on Febr. 17, then proceeded to the U.K. on Febr. 20 with Convoy HG 54, arriving Oban on March 11 - she had a cargo of iron ore, and her destination is given as Middlesbrough, where she later arrived on March 19 (Page 1). Several of the other ships from Convoy SLS 64 had also taken part in HG 54. The escort's report on passage is also available for this convoy. The following month, we find her in Convoy OG 60*, which sailed from Liverpool on Apr. 26 and arrived Gibraltar May 10; Varangberg, however, started out from Oban on Apr. 27 and arrived Huelva May 11 - see Page 2.
She headed back to the U.K. in Convoy HG 63 from Gibraltar on May 25. Her destination on that occasion is given as Ardrossan, cargo of pyrites, station 32 (right next to the Norwegian Fanefjeld). Varangberg arrived Ardrossan on June 10, departing again on June 21 for Clyde, and from there she joined Convoy OG 66*, which had originated in Liverpool on June 24 and arrived Gibraltar July 8; Varangberg proceeded to Huelva, where she arrived July 9, heading back to Gibraltar on the 21st. With a cargo of iron pyrites, she subsequently joined Convoy HG 69 from Gibraltar on July 28. This convoy is not available among the HG convoys included in my Convoys section, but see link in the Voyage Record (Svenør is also listed, bound for New York). Varangberg arrived Liverpool on Aug. 12, Garston the next day. At the end of that month, she's listed in Convoy OG 73*, departing Liverpool on Aug. 29, arriving Gibraltar Sept. 13, and from Page 2, it looks like she continued to Melilla the next day, but arrival there is not given. She was back in Gibraltar again on Sept. 17, and that same day, she embarked on what proved to be her last voyage.
* The OG convoys will be added to individual pages in my Convoys section in due course, with more information on each, but for now, the ships sailing in them (and escorts) are named on the page listing ships in all OG convoys. Other Norwegian ships are also named.

For more information on all the other Norwegian ships mentioned here, please see the alphabet index at the end of this page, or go to the Master Ship Index.


As mentioned above,
Varangberg
, had arrived Gibraltar from Melilla on Sept. 17-1941. With a cargo of 4100 tons iron ore, bound for Belfast and Cardiff, she now joined
Convoy HG 73
, which suffered great losses. The convoy departed Gibraltar on Sept. 17 and was estimated to arrive Liverpool on Oct. 1. It was initially shadowed by Italian submarines, though without causing any harm, but was later located by German aircraft, which then notified the U-boats nearby.
Varangberg was torpedoed and sunk at about 11:20 pm on Sept. 25 by U-203 (Mützelburg), position 47 50N 24 50W. One torpedo hit on the port side near No. 1 hatch, then half a minute later another hit forward of the bridge on the same side, and she went straight down, leaving no time to launch lifeboats.
The 3rd mate, who had been pulled under by the suction, was in the water for an hour before getting onto a raft with the help of Ordinary Seaman Jonassen who was already on the raft. The chief engineer was also pulled under, and when he came to the surface he heard the captain crying out from pain, floating alongside a chart house top. The chief engineer swam over to him and helped him get onto it, but the chart house top could not hold them both so the chief engineer managed to get on a raft, exhausted and bleeding from his mouth. When he was found by a British corvette he was so exhausted he was barely able to move, so they had to come down to him and carry him up. The 3rd engineer was asleep when the torpedo hit and like the others he had to jump overboard, then was able to get on a raft with Steward Bordvik and Stoker Jensen.
The attacks kept coming, keeping the escorts too busy to come to the aid of the survivors, and the 6 on the rafts from Varangberg were not picked up until early the next morning (by HMS Jasmine). The ordinary seaman was admitted to a hospital on arrival Milford Haven.
The maritime hearings were held in Cardiff on Oct. 7-1941 with 3rd Mate Johan Parelius, Chief Engineer Hans O. Hansen, 3rd Engineer Birger J. Hansen and Ordinary Seaman John A. Jonassen appearing (the latter had been at the helm).
The convoy lost a total of 10 ships, among them the Norwegian Siremalm - follow the link for more info. Details on the other ships sunk can be found on my page about HG 73. See also the external link at the end of this page.
For info, U-203 was also responsible for the attack on Soløy earlier that year, later Octavian, though there is some doubt as to the sinking of the latter ship, follow the link for an explanation.


Crew List:
21 casualties and 6 survivors are listed below, but I'm wondering if there's a name missing because according to the 3rd mate's report, she had a crew(?) of 28 upon departure Gibraltar. When adding the passenger from Spind, the numbers still don't add up.
Survivors

3rd Mate
Emil Johan Parelius

1st Engineer
Hans Olav Hansen

3rd Engineer
Birger Johan Hansen

Ordinary Seaman
John Aksel Jonassen

Stoker
Sverre Ekenes Jensen

Steward
Rangvald Berner Bordvik

Casualties:

†
Captain
Edward Steen Stenersen

†
1st Mate
Gunnar Håkon Gåsvik

†
2nd Mate
Hans Jensen

†
Boatswain
Trygve Skarpsno

†
Able Seaman
Arne Halvorsen

†
Able Seaman
Charles E. Jonassen

†
Able Seaman
Alf Paulsen

†
Able Seaman
Kåre Jakobsen

†
Able Seaman
Kristian Otto Røstad

†
Able Seaman/Gunner
Arne H. Martinsen

†
Ordinary Seaman
Gunnar Åsmund Kjær

†
2nd Engineer
Alf Monsen

†
Donkeyman
Johan Sverre Gorola

†
Stoker
Hans Johan Nilsen

†
Stoker
Sverre D. Hagerup

†
Stoker
Arne Ludvik Paulsen

†
Stoker
Rolf Borgersen

†
Stoker
Sigurd Engstrøm
(Swedish)

†
Cook
Vidsten Johnsen

†
Mess Boy
Bernhard Rice
(British)

†
Passenger
Karl Halvorsen*

+ 1 more?

* This was the former 1st Engineer of D/S Spind, which had been sunk the previous month.
Able Seaman Røstad had previously served on Egerø.
Back to Varangberg on the "Ships starting with V" page.


The text on this page was compiled with the help of: "Nortraships flåte", J. R. Hegland, "Sjøforklaringer fra 2. verdenskrig", Volume II (Norwegian Maritime Museum), and misc. others for cross checking details - (ref. My sources).