D/S Thode Fagelund
Updated Sept. 2-2012
To Thode Fagelund on the "Ships starting with T" page.

Crew List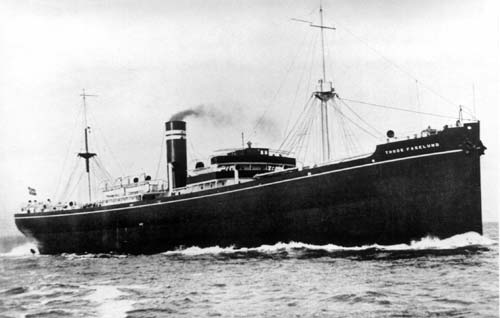 From Gunnar Skiold's photo archive



Received from, and painted by, Jan Goedhart, Holland.
See also this external page (click in the photo to enlarge).



Manager: Wilh. Wilhelmsen, Tønsberg
Tonnage: 5757 gt, 3604 net, 8325 tdwt
Signal Letters: LDAO

Launched on Aug. 7-1920 by Sir James Laing & Sons Ltd., Sunderland (Yard No. 678), completed Oct. 29-1920. 395' x 53.3' x 32.7', 3-cyl. triple expansion steam engines of 2900 ihp by Palmers' Shipbuilding & Iron Co. Ltd., Jarrow. Subsequently fitted with a low pressure exhaust steam turbine. Service speed 12 knots, 8 passengers.



Captain: This Jørgensen



Related item on this website:
Guestbook message from someone whose father served on Thode Fagelund (see crew list below).



Her voyages are listed on these original images from the Norwegian National Archives:
Page 1 | Page 2


Please compare the above voyages with Arnold Hague's Voyage Record below.



  Voyage Record
From March-1940 to Nov.-1941:  

(Received from Don Kindell - His source: The late Arnold Hague's database).

Follow the convoy links provided for more information on each.

Errors may exist, and some voyages may be missing.
1940
March 21
New York City
Rio
Apr. 8
Independent
–
Apr. 9
Rio
Santos
Apr. 10
Independent
–
Apr. 12
Santos
Rio Grande
Apr. 15
Independent
–
Apr. 15*
Rio Grande
Buenos Aires
Apr. 20
Independent
*Page 1 gives departure Apr. 18
Apr. 27
Buenos Aires
La Plata
–
Independent
Via Rosario
(Page 1).
May 16
La Plata
New York City
June 10
Independent
–
June 14
New York City
Baltimore
June 16
Independent
–
June 19
Baltimore
New York City
June 21
Independent
–
June 30
New York City
Rio
July 19
Independent
–
July 20
Rio
Santos
July 21
Independent
–
July 23
Santos
Rio Grande
July 26
Independent
–
July 28
Rio Grande
Buenos Aires
July 30
Independent
Page 1 says:
Scheme Aug. 11-1940.
Left Aug. 11 (for Rosario?), back Aug. 17.
Aug. 22
Buenos Aires
Montevideo
–
Independent
Page 1 gives arrival Aug. 23.
Aug. 23
Montevideo
Freetown
Sept. 7
Independent
–
Sept. 10
Freetown
Methil Roads
Oct. 1
SL 47
Convoy available at SL 47
(external link)
Oct. 1
Methil
Hull
Oct. 5*
FS 297
*Page 1 gives arrival Oct. 3
(left Nov. 1).
Convoy available at FS convoys
(external link)
Nov. 3
Humber
Methil
Nov. 6
FN 326
Convoy available at FN convoys
(external link)
Nov. 7
Methil
Oban*
Nov. 9
EN 20/1
*Clyde
(Page 1).
Convoy available at EN convoys
(external link)
Dec. 22
Clyde
Liverpool
Dec. 23
Independent
Again, see Page 1
Dec. 30
Liverpool
–
–
OB 267
Dispersed 53 30N 18 10W, Jan. 2-1941.
Convoy available at OB 267
(external link)
1941
Jan. 2
Dispersed from OB 267
Durban
Febr. 2
Independent
–
Febr. 10
Durban
Lourenço Marques
Febr. 11
Independent
–
Febr. 12
Lourenço Marques
Beira
Febr. 15
Independent
–
Febr. 20
Beira
Calcutta
March 9
Independent
–
Apr. 6
Calcutta
Madras
Apr. 9
Independent
–
Apr. 11
Madras
Cuddalore
Apr. 11
Independent
–
Apr. 13
Cuddalore
Capetown
May 5
Independent
–
May 6
Capetown
Freetown
May 18
Independent
–
May 30
Freetown
Oban
June 21
SL 76
Convoy available at SL 76
(external link)
June 23
Oban
Methil*
June 26
WN 144
*See Page 2.
Convoy available at WN convoys
(external link)
July 10
Methil
Liverpool
July 14
EC 43
Convoy available at EC convoys
(external link)
July 21
Liverpool
–
–
OB 349
For Trinidad.
Dispersed 50N 49W, Aug. 1.
Convoy available at OB 349
(external link)
Aug. 1
Dispersed from OB 349
Trinidad
Aug. 10
Independent
–
Aug. 14
Trinidad
Capetown
Sept. 3
Independent
–
Sept. 7
Capetown
Colombo
Sept. 25
Independent
–
Sept. 29
Colombo
Trincomalee
Sept. 30
Independent
–
Oct. 2
Trincomalee
Madras
Oct. 3
Independent
–
Oct. 7
Madras
Vizag
Oct. 9
Independent
–
Oct. 9
Vizag
Calcutta
Oct. 11
Independent
–
Oct. 18
Calcutta
Chittagong
Oct. 20
Independent
–
Oct. 24
Chittagong
Madras
Oct. 28
Independent
–
Oct. 28
Madras
–
–
Independent
Sunk - See "Final Fate" below.


For information on voyages made in between those mentioned here, please see the documents received from the National Archives of Norway and A. Hague's Voyage Record above.

As will be seen when going to Page 1 of the archive documents, Thode Fagelund was in Rio de Janeiro when war broke out in Norway on Apr. 9-1940, having arrived there from New York the day before.

In Sept.-1940 she's listed, along with Skaraas, in Convoy SL 47, which departed Freetown on Sept. 10 and arrived Liverpool on the 28th - link in the table above. Thode Fagelund was bound for Hull, station 12, arriving that destination on Oct. 3, remaining there for about a month. She later also spent several weeks in Glasgow (Page 1). We now find her in Convoy OB 267, departing Liverpool on Dec. 30, dispersed Jan. 2-1941 - again, see the link provided in the Voyage Record above. Cetus, Charles Racine (Commodore Vessel) and Danio are also named. Thode Fagelund's destination is not given, but from the archive document, we learn that she arrived Durban on Febr. 2. According to the Memorial for Seamen in Stavern, Norway (link below), she lost a crew member a month later; 3rd Mate Martin Stensland is listed as having died at sea on March 2-1941 due to illness. Going back to the archive document, we see that she was on her way from Beira to Sandheads (Calcutta) at the time. It'll also be noticed that she subsequently had a long stay at Sandheads, before proceeding to Madras.

Skipping now to May 30-1941, when she can be found in Convoy SL 76 from Freetown (4 ships were sunk). Thode Fagelund, cargo of pig iron and groundnuts, stopped at Oban on June 21, continuing to Leith a couple of days later. The following month she's listed, together with Benwood, Gallia, Gard, Lise, Tore Jarl and Vav, in Convoy OB 349, departing Liverpool on July 21, dispersed Aug. 1, Thode Fagelund arriving Trinidad Aug. 10. Again, see the links in the table above for more information on these convoys - Thode Fagelund's voyages in this period are shown on Page 2.

More info on the other Norwegian ships named here can be found via the alphabet index at the end of this page, or go to the Master Ship Index.



Related external link:
Stavern Memorial commemoration - 3rd Mate Martin Stensland is listed as having died at sea on March 2-1941 due to illness. According to Page 1, Thode Fagelund was en route from Beira to Sandheads on that date.



Thode Fagelund

was on a voyage from Chittagong and Madras to Table Bay and the U.K. with a cargo of scrap iron, jute and tea when she was torpedoed in the starboard side and sunk on Nov. 17-1941 by the Vichy French submarine

Le Héros

(Lemaire), 60 n. miles east (another source says 35 miles southeast) of East London (South Africa). According to

Page 2

, she had departed Chittagong for Madras on Oct. 24, then left Madras on Oct. 28.

All 35 survived, 4 lifeboats were launched, and by the time they had left the ship the entire after part was under water. One of the boats with 8 men reached Kidds Beach near East London that same evening, while those in the 2nd mate's boat were found by a vessel that had been sent out from East London. The men in the other 2 boats were picked up by D/S Nahoon and subsequently landed in Port Elizabeth.

There seems to have been a great mystery and some suspicion surrounding this event, in that the authorities wouldn't believe at first that there could have been any enemy boats in that area, nor were there any mine fields or enemy aircraft. Therefore, the explosion must have come from inside the ship, possibly as a result of sabotage - due to the British 2nd radio operator's statements, the 1st mate was initially suspected of this act. Thode Fagelund's officers were interrogated, the captain said a torpedo had hit in the stern of the ship, and after she had sunk, he had spotted (from the lifeboat) a conning tower and periscope about 500 meters to the port side of the ship's course. Others also claimed to have seen the sub.

The hearings were held in Capetown on Dec. 5-1941 with the captain, the 1st mate (officer on watch), Radio Operator Brochmann Johannessen and Ordinary Seaman Fredriksen (lookout) appearing.

Eventually, based on information at hand, the interrogation staff at Capetown reported to the Admiralty that Thode Fagelund had been torpedoed by a Vichy French submarine. This conclusion was drawn from several facts. A French convoy from Madagaskar with supplies for France had been intercepted by the British on Nov. 3, and the merchant ships and their cargoes seized. Radio communications between the French authorities and the escorting d'Iberville, which was allowed to return to Madagaskar, were intercepted. Earlier, on Oct. 28, the subs Le Glorieux and Le Héros had departed Dakar for Madagaskar with another convoy, but did not return when the convoy did on Nov. 10. Additionally, on Nov. 22, aircraft had observed what was believed to have been one or more subs off Durban Bluff, and dropped some bombs, then on Dec. 7 private telegrams to Le Héros in Diego Suarez were intercepted. It was believed that Thode Fagelund was torpedoed as a reprisal for the earlier British interception of the French convoy. Glorieux had also attacked an allied ship on Nov. 15, but the attack was unsuccessful.

An article found in "Krigsseileren", Issue No. 4 for 1995, written by someone who was on board at the time, states that the 3000 tons iron had been taken on board in Calcutta (for ballast, since the 36 000 cases of tea they were to get in Chittagong didn't weigh much). He says she had previously been to New York (from Birkenhead) and had sailed alone to Capetown where she got some supplies before continuing east, also stopping by Dar es Salaam (according to the archive documents, she had not been in New York since June-1940, but did not arrive there from the U.K. - see Page 1, unless she had stopped by New York on her way to Trinidad in Aug.-1941? see Page 2, which also shows that she did proceed to Capetown from Trinidad). While in Calcutta there was a fire in the engine, caused by reckless smoking. Fire services were called and when extinguishing the fire the ship filled with water and sank in the harbour, causing a delay of 6 weeks before she could proceed to Chittagong to take on board the tea. This does not quite fit the facts; according to Page 2, she had arrived Sandheads (Calcutta) on Oct. 11, and left again for Chittagong on the 18th, which does not indicate a 6 weeks delay. However, it'll be noticed, when going back to Page 1, that Thode Fagelund had spent several weeks there earlier that year (from March 9 to Apr. 6), perhaps the author of the article just remembers the sequence of events wrong? He adds she was en route to Capetown for bunkers when the torpedo hit in No. 5 hatch very early in the morning. She immediately started to list and all lights went out before she sank straight down in a few minutes, with the suction causing a "great hole" in the sea, so the lifeboats had to row for life to get away from it.



Crew List - No casualties:
* 1st Mate Gundersen had previously served as 2nd Mate on Touraine when that ship was torpedoed in Oct.-1940.
**See also crew lists for Cubano, Teneriffa and Elin K.
***Alfred Donald Webb also appears in the crew list for Tønsbergfjord
According to this external page (takes a while to load), Stoker Larsen's also served on Arhur W. Sewall, Vestfold, Topdalsfjord, Hallfried, Tautra, Troubadour, Gabon and Høegh Trader (he's said to have joined the latter ship in Liverpool in Nov.-1944, but I believe this must be an error; see my text for Høegh Trader in the Homefleet section (German Kurland), unless he joined Cape Trafalgar, which later became Leif Høegh's Høegh Trader, but not until 1947 and he's said to have paid off in March-1946, joining Elg later that year).
Captain
This Jørgensen

1st Mate
John Bjørn Gundersen*

2nd Mate
Henrik Smith Hansen**

3rd Mate
Marcus Anker Gjersøe

Radio Operator
Eilert Brochman Johannessen

2nd Radio Operator
Alfred Donald Webb***
(British)

Carpenter
Even Pedersen

Boatswain
Viggo Larsen

Able Seaman
Astor Bertheussen

Able Seaman
Sigurd Rasmussen

Able Seaman
Arne Andersen

Able Seaman
Karl Jørgensen

Able Seaman
William Hagen

Able Seaman
Ole Frantzen

Ordinary Seaman
Ove Celander Fredriksen

Ordinary Seaman
Elias Røsseland

Ordinary Seaman
Karl Kolbeisen

Ordinary Seaman
Johannes Nesse

Ordinary Seaman
Lyder A. Karlsen

1st Engineer
Simon Johansen

2nd Engineer
Emil Gjertsen

3rd Engineer
Erling Gjessing

Donkeyman
Hans Mydske

Donkeyman
Anker Gustavsen

Stoker
Garald Gravdal

Stoker
Louis Anton Larsen

Stoker
Johan Johansen

Stoker
Karsten Lundberg

Stoker
Christian Christoffersen

Oiler
Olaf Karlsen

Steward
Aage Ch. W. Berg

1st Cook
Armann Grude Otterbeck

2nd Cook
Harald Vilner Kolberg

Mess Boy
Storm Ringen

Saloon Boy*
Sverre Hietanen
(Finnish)
* See this
Guestbook message
Wilh. Wilhelmsen had previously lost another steamship by this name, built 1904, 4352 gt - torpedoed and sunk off Ostend on March 12-1917 by the German UB 27, 51 40N 02 58E, on a voyage Shanghai-Rotterdam with a cargo of sesame seed.


The text on this page was compiled with the help of: Wilh. Wilhelmsen fleet list, "Nortraships flåte", J. R. Hegland, "Krigsseileren", Issue No. 4 for 1995, "Sjøforklaringer fra 2. verdenskrig", Volume II (Norwegian Maritime Museum) - (ref. My sources).