D/S Komet
Updated Dec. 1-2011
To Komet on the "Ships starting with K" page.

Crew List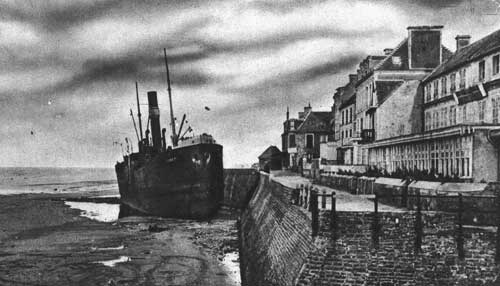 At Arromanches, France 1940 - Source: Patrick David collection.
Another picture is available on this external page (click in it to make it larger).


Manager: H. Tangvald-Pedersen, Porsgrunn
Tonnage: 1147 gt, 675 net, 1835 tdwt
Signal Letters: LEGN
Delivered in Aug.-1912 from Laxevaags Maskin- & Jernskibsbyggeri, Bergen as Pluto to B. Stolt-Nielsen e.a., Haugesund. 229.3' x 35.2' x 15.9', Triple exp. 123 nhp (Laxevaag). Transferred in July-1916 to D/S A/S Pluto (same managers). Taken as prize on Nov. 3-1916 in the North Sea by UB-21 and used as transport vessel by the German Army. Taken as French prize in March-1917. From 1920 she sailed as Charles Schiaffino of Algeria, from 1923 as Komet of Christiania (Oslo), from July-1935 she belonged to H. Tangvald-Pedersen, Porsgrunn. The external page that I've linked to above has a more detailed history description.


Captain: Adler Røstad.


Please compare the above voyages with Arnold Hague's Voyage Record below.


Partial Voyage Record
From Jan.-1940 to June-1940:  
(Received from Don Kindell - His source: The late Arnold Hague's database).
Follow the convoy links provided for more information on each.
1940
Jan. 19
Norwegian Waters
Methil
Jan. 22
HN 8
–
March 5
Kirkwall
Norwegian Waters
March 8
ON 17A
Missing voyages, archive document
Apr. 26
Tyne
Southend
Apr. 28
FS 156
Convoy available at FS 156
(external link)
Archive doc gives arrival Rouen Apr. 29
(also, missing voyages).
June 6
Sunderland
Southend
June 8
FS 189
Convoy available at FS 189
(external link)
A. Hague has included Komet in Convoy HN 8 from Norway to the U.K. in Jan.-1940. Early in March, he has her in the U.K.-Norway Convoy ON 17A. Follow the links for more details; several Norwegian ships are listed in both these convoys. She must have gotten out of Norway somehow, because she was later in allied control. Judging from the information on the archive document, she was at Tyne when war broke out in Norway on Apr. 9, having arrived there from Rouen on Apr. 7, returning to Rouen later that month. With Asgerd and Snar, she's listed in Convoy FS 156, which left Tyne on Apr. 26 and arrived Southend 2 days later; Komet arrived Rouen on the 29th.
According to the external website that I've linked to below, she was scheduled for Convoy OA 157, which left Southend on May 28-1940, but she did not sail - her destination is given as Nantes. It does look like she made a voyage to France and back to the U.K. in this period, but arrival/departure France is not given on the archive document. The following month, we find her in Convoy FS 189, which left Tyne on June 6 and arrived Southend on the 8th. Bjørnvik is also included. From the archive document, we learn that Komet started out from Sunderland on June 6 and was bound for Caen, but arrival there is not given.


Related external link:
OA convoys - As can be seen, Komet is mentioned in OA 157.


While in France, she got caught up in the evacuations; she left Caen again on June 17 for Grangemouth with a part cargo of ammunition, but was attacked and sunk by German aircraft just off the coast. She was attacked twice, the first time by 3 aircraft at 16:00 when about 25 miles off the shore. In addition to firing with machine guns, 3 bombs were dropped, but none hit the ship. This attack lasted about an hour. The second attack (by 7 aircraft, smaller than the first 3) took place about 10 miles from shore at 18:00, lasting about 20 minutes.
The captain was killed by a machine gun bullet and 1st Engineer Harald Pedersen fatally injured, several others wounded. A French patrol vessel* picked up the entire crew, including the captain, and took them to Cherbourg. The injured engineer was taken to hospital in Bayeux, but he died on June 20 and was buried there along with the captain. The crew left Cherbourg with the British troops that same day on the ferry Antwerp, arriving Southampton that night.
Maritime hearings were held in London on June 21-1940 with the 1st mate, the 2nd mate, the 2nd engineer and Able Seaman Grødal appearing.
* An article in the 3rd issue of "Krigsseileren" for 1983 states that the vessel that picked up the survivors was a fishing vessel and adds that Captain Røstad was buried at Port-en-Bessin. The French fishermen later joind the resistance movement, and they tended the captain's grave all through the war, continuing to do so for years after the war. They later got in touch with his family so that they could come and visit the gravesite.

(Charles Hocking gives the date July 17-1940 for the attack on Komet).


Crew List:
The seamen denoted * were wounded in the attack.
The 1st mate later survived the sinking of Malmanger.
Survivors

1st Mate
Peder Årås

2nd Mate
Knut Sauness

Able Seaman
Sigurd A. Olsen*

Ordinary Seaman
Nils Grødal

Ordinary Seaman
Gunnar Ingebrigtsen*

Ordinary Seaman
Harry A. Grosvold*

Jr. Ordinary Seaman
Odd Bekken

2nd Engineer
Karl Olavessen

Donkeyman
Henry H. Håkonsen

Stoker
Trygve Jarl Høydahl

Stoker
Guttorm Myhre

Trimmer
Fritz Thoresen

Steward
Oskar Olsen

Galley Boy
? Wathne*

Casualties:

†
Captain
Adler Røstad

†
1st Engineer
Harald Pedersen*
Back to Komet on the "Ships starting with K" page.


Norway had previously had another Komet, originally delivered in 1892 as Beacon Rock to owners in Glasgow, 1917 gt, sold to Norway in 1910 and renamed Komet for Daniel Steens Rederi. Later sailed as Cate for Brøvigs Rederi, Farsund from 1913, sold for breaking up in 1923.
The text on this page was compiled with the help of: "Nortraships flåte", J. R. Hegland, "Våre gamle skip", Leif M. Bjørkelund & E. H. Kongshavn (pre war history), "Krigsseileren" No. 3 for 1983, "Sjøforklaringer fra 2. verdenskrig", Norwegian Maritime Museum, Volume I, and misc. (ref. My sources).