D/S Hill
Updated Oct. 22-2011
To Hill on the "Ships starting with H" page.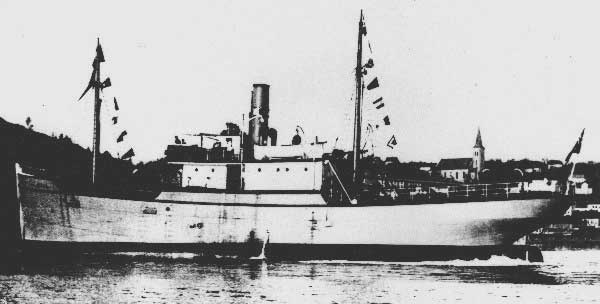 From Lillesand Sjømannsforening, Norway (source: Arne Gundersen's collection).
Another picture is available on this external page (click in it to make it larger).


Owner: A/S Memento
Manager: Osw. Rosenvold, Kristiansand
Tonnage: 496 gt, 650 tdwt.
Signal Letters: LECR
Built in Tvedestrand in 1920 (made of wood). According to the external website that I've linked to above (Lillesand Sjømannsforening), she was launched as Bjørnvik, delivered in Oct.-1920 as Hill to M. B. Bakke & Sønners Rederi A/S, Arendal. Owned from 1922 by D/S A/S Hill (M. B. Bakke & Sønner), Arendal, same name. From Jan.-1926, Skibs A/S Hills Rederi (Halvor Blom Bakke), Arendal, no name change. From Dec.-1932, Georg A. Andersen, Arendal. Owners in 1936 were Skips A/S Realfsens Rederi (H. Realfsen), Porsgrunn. From Nov.-1939, A/S Memento (Osw. Rosenvold), Kristiansand. From March-1941, A/S Memento (Andrew S. Glastad, Farsund), Kristiansand.
Captain: Johan Herman Johansen (from Nov.-1939 until May-1943 acording to this external page. Later joined Thore Hafte, Cresco, Stadion II and Raftsund).


Her voyages are listed on these original images from the Norwegian National Archives:
Page 1 | Page 2 | Page 3 | Page 4 | Page 5
Misc. War Details & Final Fate:
According to A. Hague,
Hill
sailed in
Convoy ON 22
from the U.K. to Norway in March-1940, and is mentioned in
HMS Breda
's report for this convoy. The report states that
Hill
had never been able to keep station and had been left behind on March 24. Note that according to
Page 1
of the documents received from the Norwegian archives, she was in Arendal, Norway in Apr.-1940, sailing from there to the U.K.; exact departure date is not given, but it must have been early in the month, because she's said to have left Methil Roads on Apr. 12. As can be seen, she later made some voyages to France.
Her 1941 voyages start on Page 2. On Febr. 20 that year, she was attacked by German aircraft off St. Ives, but defended herself fiercly, until the aircraft withdrew with a damaged tail.
Reported being attacked by bombs and machine gun fire from German aircraft in the Irish Sea on June 17-1941, damaged, but not seriously. According to Page 3, she had sailed from Cork that day and it'll be noticed, that she subsequently spent a long time at Barry, where she had arrived June 20; departure is given as Sept. 1, when she proceeded to Cardiff. It also looks like she spent a long time in Cardiff later that year. She had arrived there from Cork on Nov. 4-1941 and departure is given as Jan. 30-1942.
In the spring of 1942, she's listed, together with the Norwegian Tora, in Convoy HM 7 (external link - incomplete listing), departing Holyhead on May 7, arriving Milford Haven the next day. Hill, however, was bound for Sharpness, where she arrived May 9 - see Page 4.
She had arrived Holyhead on Aug. 31-1942 after having been involved in a convoy(?) collision with the British Kingsland when on a voyage from Liverpool to Avonmouth. Towed to Appledore on Oct. 14 (note that Page 5 of the archive documents says she arrived Appledore on Oct. 3, original destination is given as Bristol). Condemned and sold in April-1943. (According to Lillesand Sjømannsforening's website that I've linked to further up on this page, she's believed sold to Greek owners, while still being under repairs at Appledore. The site adds that she was delivered repaired in Jan.-1944 to H. Leniham, Dalkey, Ireland. Later ran ground on Febr. 27 that same year at Britta's Bay, Wicklow, when on a voyage from Appledore to Dublin).
George Monk, England has told me that the following men received British awards (his source: Seedies List of awards to the British Merchant Navy which includes awards to Allied merchant seamen):
Captain Johan H. Johansen - Commendation
1st Mate Andreas Andersen - Commendation
2nd Mate Oscar Lingaas - Commendation (name different from 2nd mate listed below, perhaps he was a previous mate, who was no longer on board in 1942?)
Able Seaman Bjarne Myklebostad - Commendation (not listed below).