D/S Vestfoss
Updated Jan. 5-2012
To Vestfoss on the "Ships starting with V" page.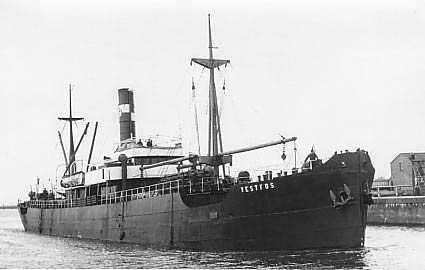 From Bjørn Milde's postcard collection.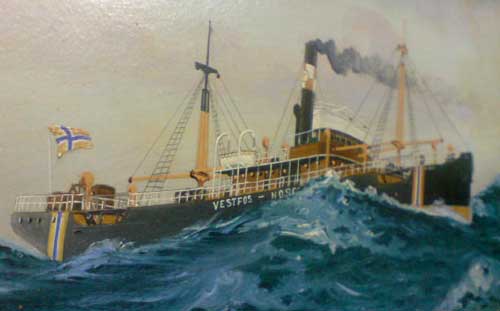 Received from Freddy Christiansen (painting by Olaf Gulbrandsen 1917).


Manager: S/A Thor Thoresens Linje
Tonnage: 1388 gt
Built at Nylands mek. Verksted, Kristiania (Oslo) in 1909.
According to this external page, she was delivered in June-1909 as Vestfos (198) to A/S Manchester (T. Thoresen jr.), Kristiania. From June-1918, owned by Skibs A/S Thor Thoresens Linje (T. Thoresen jr.), Kristiania, no name change. From June-1920, Skibs A/S Thor Thoresens Linje (O. & T. Thoresen), Kristiania, same name. From July-1925, Skibs A/S Thor Thoresens Linje (T. Thoresen A/S), Oslo. Renamed Vestfoss in May-1939. See also this this Guestbook message.


Related items on this website:
Guestbook message saying that this ship called at Silloth on several occasions during the late 1930s, to load coke (coal) for Norway.
Another Guestbook message - From the grandson of Ingvald Christiansen, who served as Engineer on Vestofs(s), as well as on Granfoss.


Vestfoss is listed among the ships in Convoy HN 9A from Norway to the U.K. at the end of Jan.-1940. She arrived Manchester on Febr. 3, having parted company at 18:00 on Jan. 29 "for no apparent reason" (according to the escorting Inglefield's report). As will be seen when following the link, several other Norwegian ships also took part.


Final Fate - 1940 (Norway still neutral):
Jan-Olof, Sweden has told me that according to "Lloyd's War Losses, Vol. 1" this ship was sunk by aircraft while on a voyage from Partington to Oslo with a cargo of coal on March 1-1940. Attacked 12 miles E. by S. of Copinsay. Wreck lies in 58 54N 02 23W. Part of the crew arrived in Oslo on March 6. He has also sent me a copy of an old newspaper clipping, dated London, March 5, saying the crew of 19 was saved from their lifeboats by the trawler
Star of Liberty
, which landed them in a Scottish port that same day. The captain of the trawler had seen a big flame come out of the ship.
Vestfoss was taken in tow, but after about 2 hours she had taken in so much water that towing had to be given up and she sank shortly afterwards. It appears the pilot of the German aircraft had given the crew a warning to get in the boats, because as it came over the first time the pilot signalled with his arms to them, took off, then returned and dropped a bomb in front of her bow. The aircraft then made a wide circle and when it returned it dropped a bomb between hatch 1 and 2 - the men had gone in the lifeboats by then. The article says the plane took its time, made another round at slow speed, then came back and dropped another bomb, this time with much more serious results than the former 2, which had not caused much damage. She was now set on fire, and no more bombs were dropped. The article adds that Vestfoss had been in service Norway-Manchester for 32 years, ever since she was built at Nylands mek. Verksted, Oslo.
Another visitor to my site has told me that "Dive North East Scotland" says "Sank 9 miles E of Copinsay Light". A Norwegian source, "Norges, Sveriges og Danmarks handelsflåter, tilgang og avgang i 1940-1945" gives the position as 6 n. miles off Out Skerries Light.