D/S Trajan
Updated Dec. 3-2010
To Trajan on the "Ships starting with T" page.

Crew List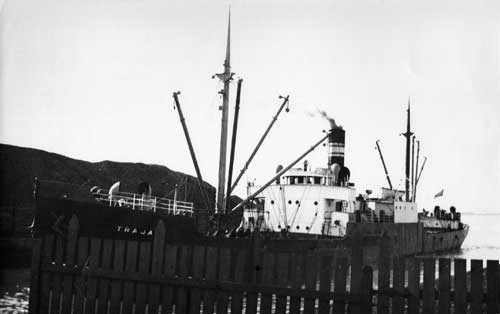 Received from Ron Beaupre, who says it was taken at Toronto, Ontario in 1935, by Ivan S. Brookes, a friend of his.
Another picture is available on this external page (click in it to enlarge).



Owner: Skibs A/S Trajan
Manager: Hilmar Reksten, Bergen
Tonnage: 1414 (1347?) gt, 2100 tdwt
Signal Letters: LFDF

Built by Great Lakes Engineering Works, Ecorse, Michigan, USA in 1915 as Yaque for Clyde Steam Ship Co., New York (Captain A. C. Anderson). 1414-tons, 74.98 length, 11.68m beam, 4.70m draught. Single steel propeller powered by a 3-cylinder triple expansion steam engine developing 200nhp using two single ended boilers, which worked at 190 lbs pressure. Cylinder dimensions: 43.18cm, 72.39cm and 114.30cm, with a 91.44cm stroke, (17in, 28.5in. and 45in. with a 36-inch stroke). She also had 4 corrugated furnaces, with a grate surface of 1.85m and heating surface of 49.58m. Great Lakes Engineering Works built her machinery at Detroit. She had a flat keel, 4 cemented bulkheads, one steel deck and a superstructure consisting of a 19.81m bridge deck and a 7.62m forecastle. She also had water ballast with 20.12m cellular double bottom aft, under engines and boilers 10.36m forwards 15.24m giving 425 tons ballast, a fore-peak tank of 32 tons aft and a peak tank of 34 tons. Sold in 1929/30 to D/S A/S Inca, Bergen, Norway and renamed Doris, managed by E. Eriksen. Purchased by Skibs A/S Trajan (Hilmar Reksten) in 1930/31 and renamed Trajan. (Compare with the history found on this external page).



Captain: Asmund Evjenth



Her voyages are listed on these original images from the Norwegian National Archives:
Page 1 | Page 2


Please compare the above voyages with Arnold Hague's Voyage Record below.



  Voyage Record
From March-1940 to May-1941:  

(Received from Don Kindell - His source: The late Arnold Hague's database).

Follow the convoy links provided for more information on each.

Errors may exist, and some voyages are missing.
1940
March 10
Tyne
Southend
March 12
FS 118
Convoy available at FS convoys
(external link)
Missing voyages, Page 1
Apr. 22
Blyth
Southend
Apr. 24
FS 153
Convoy available at link above
Page 1 gives arrival Caen, Apr. 27
(also, missing voyages)
Sept. 20
Milford Haven
Gibraltar*
Oct. 3
OG 43
*Arrived Lisbon,
on to Gibraltar Oct. 16
(Page 1).
Convoy will be added.
See ships in OG convoys
Oct. 31
Gibraltar
Liverpool*
Nov. 19
HG 46
*Oban?
(see Page 1 - Also, missing movements).
Dec. 11
Blyth
Southend
Dec. 14
FS 359
Convoy available at FS convoys
(external link)
Missing movements:
Page 1 & Page 2
1941
Jan. 4
Tyne
Southend
Jan. 6
FS 379
Convoy available at link above
Missing movements, Page 2
Apr. 19
Southend
Blyth
Apr. 21
EC 9
Convoy available at EC convoys
(external link)
May 2
Methil*
–
–
FS 479
*From Blyth
(Page 2).
Sunk - See "Final Fate" below.
Convoy available at FS convoys
(external link)


For information on voyages made in between those mentioned here, please see the documents received from the National Archives of Norway and A. Hague's Voyage Record above.

As can be seen when going Page 1 of the archive documets, Trajan made some voyages to France (including Dunkirk) in the spring/summer of 1940. It'll also be noticed that she occasionally had long stays in port.

Later that year she's listed, together with Samlanes, Tejo and Varegg, in Convoy OG 43, which departed Liverpool on Sept. 20 and arrived Gibraltar Oct. 3; Trajan arrived Lisbon that day, having started out from Milford Haven on Sept. 19. (OG 43 will be added to an individual page in my Convoys section in due course; in the meantime, the ships sailing in it are named on the page listing ships in all OG convoys). All these ships, including Trajan, are also named in Convoy HG 46 from Gibraltar on Oct. 31. Trajan was bound for Methil and Tyne, cargo of pit props. Again, see also Page 1.

Her 1941 voyages are listed on Page 2, which shows a long stay at Tyne (or Shields), where she had arrived on Jan. 24; departure is given as March 6 (5?) when she proceeded to Blyth.



Trajan

had departed Blyth with a cargo of 1744 tons coal in the evening of May 2-1941, together with

D/S Sitona

(sunk - follow the link for details), and joined a convoy for London on May 3 (see

Convoy FS 479

- external link; incomplete listing). At 23:25 that same evening, she was hit by bombs from German aircraft, in the foreship and amidships, port side.

Trajan

's anti aircraft gun(s?) had been manned as soon as the aircraft was heard, but the plane could not be seen until it was right above them, and then it was too late. The port lifeboat was destroyed, and those who were on the bridge and the forward section of the ship couldn't get to the starboard lifeboat because of a broken steam pipe, resulting in hot steam gushing across midships.

The men managed to get to the raft on the foredeck, but when it was discovered that the British Stoker Matthews was missing, the captain went back, found the missing man trapped in the stoker room and freed him, then got back on the raft at the last minute (he was later awarded the British "Hon Member of British Empire" for this act). Trajan sank 11 minutes after the attack.

They were all picked up by a destroyer a couple of hours later (May 4 by then) and landed in Harwich that afternoon; sent to London later that day. 2nd Mate Nilsen, Able Seaman Hedmann and stoker Matthews had been admitted to a hospital in Harwich. The latter had sustained some steam burns in the stoker room, while the former 2 were injured when dropping themselves down 20' from the bridge in order to get to the raft on the foredeck. The captain was also injured.

The maritime inquiry was held (in London?) on May 8-1941 with the captain and Able Seaman Andersen attending. The latter was on lookout duty and also operated the machine gun on the bridge. He had helped the injured Able Seamann Hedmann to the raft, the latter being unable to walk, and also assisted a man who had fallen into No. 1 hold through a hole left by the bomb. The captain recommended that Norwegian ships be fitted with straps from the bridge, so that people in similar situations could save themselves more easily. He felt that if such straps had been available on Trajan, there would not have been any injuries.

Roger W. Jordan's "The World's Merchant Fleets 1939" gives the position of the attack as 53 10 30N 01 13E. Ron Young says she's located at a depth of 18m, 14.35-miles NNE from Blakeney Point and 11.86-miles SE from East Dudgeon bell-buoy (reference: 53 10 839N 001 11 791E) and feels she must have drifted with wind and tide before finally going down. He adds that the wreck was swept and dispersed to a depth of 15.24m in 1949 and the wreck buoy was removed. Another visitor to my site has told me that "Shipwreck Index of the British Isles" gives the location as 14.5 miles northeast by north of Blakeneny, Norfolk.



Crew List - No casualties:
The captain was on the bridge at the time of attack, as were the 2nd mate, Able Seaman Andersen (lookout), Able Seaman Hedmann (helmsman) and a gunner.
"The World's Merchant Fleets 1939" says there were 21 survivors.
"Sjøforklaringer fra 2. verdenskrig" states she had a complement of 18 + 2 army gunners - 19 are named as follows:
Captain
Asmund Evjenth

1st Mate
Einar Fuhr

2nd Mate
Nils Nilsen

3rd Mate
Anders Lambedal

Able Seaman
Leif Ragnvald Andersen

Able Seaman
Gunnar Hedmann
(Swedish)

Able Seaman
Ole Hansen

Able Seaman
James Kerby
(British)

Able Seaman
Konrad Johnsrud

Able Seaman
Olav Nerdal

1st Engineer
Ole Jespersen
(Danish)

Donkeyman
Alf Østensen

Stoker
William Matthews
(British)

Stoker
Herman Jönsson
(Swedish)

Stoker
Birger Eriksen

Trimmer
Ernest Johnson
(British)

Steward
Nils Wermundsen

Cook
Oskar Istad

Mess Boy
Douglas Suddars
(British)

+ 2 gunners?
Back to Trajan on the "Ships starting with T" page.


The text on this page was compiled with the help of: "Nortraships flåte", J. R. Hegland, "Sjøforklaringer fra 2. verdenskrig", Volume II, Norwegian Maritime Museum, and misc. as named within above text - (ref. My sources). Pre war details were received from Ron Young, England who has written several books on shipwrecks; see this thread on my Maritime Books Forum.