M/T Thorsheimer
Updated Jan. 14-2011
To Thorsheimer on the "Ships starting with T" page.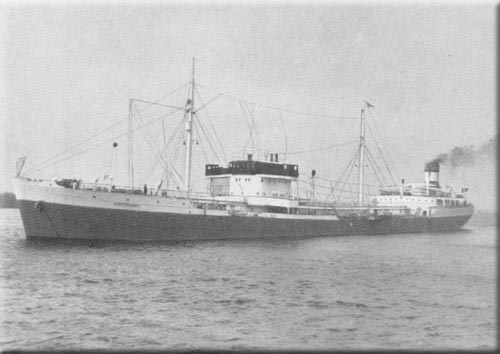 Source: Narve Sørensen (Ex Thor Dahl employee).


Manager: A/S Thor Dahl, Sandefjord
Owner: Bryde & Dahls Hvalfangerselskap A/S
Tonnage: 9955 gt
Built by Deutsche Werft AG, Betrieb Finkenwärder, Hamburg in 1935.


Some of her voyages are listed on this original document received from the National Archives of Norway.


Please compare the above voyages with Arnold Hague's Voyage Record below.


Follow the convoy links provided for more information on each.
Thorsheimer is listed as sailing in Convoy HG 21 from Gibraltar to the U.K. at the beginning of March-1940, bound for Liverpool, station 43 - follow the link for more convoy information. Later that month, we find her in Convoy OB 113, departing Liverpool on March 19. This convoy, which is available via the external link provided within the Voyage Record above, joined up with Convoy OA 113 on March 21, the combined convoy forming the Gibraltar bound Convoy OG 23F, which arrived Gibraltar on March 28. Thorsheimer, however, was bound for Curacao, where she arrived Apr. 8, according to the archive document. A. Hague says she had been detached from the convoy on March 25. (OG 23F will be added to an individual page in my Convoys section in due course; in the meantime, the ships sailing in it are named on the page listing ships in all OG convoys).
From Curacao, she headed to Gibraltar 2 days later (cargo of oil), with arrival there on Apr. 28, leaving again for Spezia on May 16, but arrival date is not given (A. Hague gives arrival May 20). She was seized by the Italian government at Spezia on June 10-1940, and the crew taken prisoners. They were later sent home.
Torpedoed, shelled and damaged in the Mediterranean on Jan. 9-1943 by the British submarine Umbra (Maydon), 50 miles southwest of Marsala.
It'll be noticed that there's a little note on the archive document indicating that she was in port at Bizerta in Febr.-1943.


Bombed by British aircraft on Febr. 21-1943 and sunk 20 miles southwest of Marettimo. (Charles Hocking states she had been taken over by the Germans - the archive document gives the date as Febr. 22/23). Not sure if this link will work, but there's a picture of the burning Thorsheimer in an online version of the book Whispering Death by Lee Heide (external link - Chapter 6, Page 123), saying that Thorsheimer, "disguised as a merchant vessel, was found by some USAF Mitchells and slightly damaged", when off the coast of Sicily, escorted by 3 E-Boats. 6 Beauforts (from 39th squadron?) were dispatched from Malta, led by Captain Tilley, and when they found the ship, she was moving slowly, with the E-boats and a tug circling around her. She was hit by a torpedo amidships, and by another in the stern. When another torpedo hit she was engulfed in flames.


Related external link:
HMS Umbra - The site mentions a torpedo attack on a tanker on Jan. 9-1943, but name is not given.


Other ships by this name: Thor Dahl later had two more tankers by this name, one built 1948, sold Panama 1962 (Providence), the other built 1965, sold 1971 (Langeais). This external website has more details on these ships.


The text on this page was compiled with the help of: "Nortraships flåte", J. R. Hegland, "Allied Submarine Attacks of World War Two", Jürgen Rohwer, documents about Thor Dahl ships from Narve Sørensen, "The World's Merchant Fleets 1939", R. W. Jordan, and misc. (ref. My sources).