M/S Tamerlane
Updated Aug. 12-2012
To Tamerlane on the "Ships starting with T" page.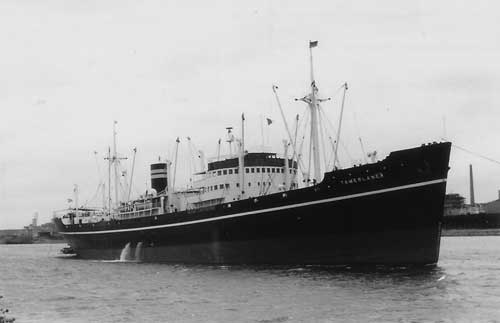 Source: Tony Cooper's collection.
More pictures are available on this external page (click in them to enlarge).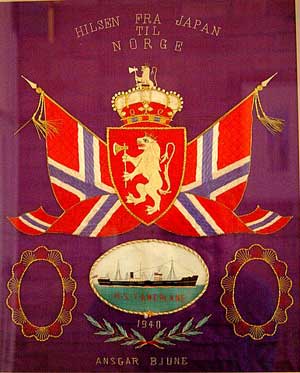 The above picture of what looks like a wall hanging (made of silk) was received from Bernard Matson, Australia, who acquired the hand worked piece from an uncle about 60 years ago. He says it appears to be something of a "Friendship gathering means from the Japanese Government of the day to the Norwegian Shipping of the year 1940". The text on it says "Hilsen fra Japan til Norge" (Greetings from Japan to Norway), "M.S. Tamerlane 1940, Ansgar Bjune" (this is a name, possibly the captain?). As can be seen, when going to Page 1 below, she made several voyages to Japan in the course of 1940.



Manager: Wilh. Wilhelmsen, Tønsberg
Tonnage: 6778 gt

Launched Jan. 10-1936 by Kockums Mekaniska Verkstads A/B, Malmö (Yard No. 188), completed May 28-1936. 6778 gt, 4140 net, 10 750 tdwt, 479.1' x 62.3' x 29.0', 8 cyl. 2 scda oil engine of 9600 ihp by the shipbuilders. Service speed 16. 25 knots. 840 cu. ft. of refrigerated cargo space, 12 passengers. First ship on the Barber West African Line.



Her voyages are listed on these original images from the Norwegian National Archives:
Page 1 | Page 2 | Page 3 | Page 4 | Page 5


Please compare the above voyages with Arnold Hague's Voyage Record below.



Partial Voyage Record
From Apr.-1943 to Aug.-1944:  

(Received from Don Kindell - His source: The late Arnold Hague's database).

Follow the convoy links provided for more information on each.
1943
Apr. 22
Takoradi
Freetown
Apr. 27
TS 36
Earlier voyages:
Page 1, Page 2 & Page 3
Convoy available at TS 36
(external link)
Missing 1943 voyages, Page 3
1944
March 20
Lagos
Takoradi
March 21
Independent
Earlier 1944 voyages:
Page 4
May 19
Dakar
Freetown
May 21
RS 17
Missing voyages, Page 4 above.
Convoy available at RS 17
(external link)
May 22
Freetown
–
–
STL 23
Detached May 25.
Convoy available at STL 23
(external link)
May 25
Detached from STL 23
Matadi
–
Independent
Missing voyages, Page 4
Aug. 7
Dakar
Freetown
Aug. 10
OS 84
Dakar to Freetown.
Convoy available at OS 84
(external link)
Aug. 12
Freetown
Takoradi
Aug. 16
STL 28
Convoy available at STL 28
(external link)
Missing voyages:
Page 4 & Page 5
Judging from the information found on Page 1 of the archive documents, it looks like Tamerlane was on her way from Aden to Singapore when war broke out in Norway on Apr. 9-1940. She had been in Norway the previous month and her final destination was Japan. Her 1941 voyages also start on this document and continue on Page 2, which also has some of her early 1942 voyages, while the rest are shown on Page 3 (it'll be noticed that she occasionally had long stays in port).
On June 30-1942, she rescued 16 survivors from the British Willimantic, which had been sunk by U-156 on June 24; the external websites that I've linked to at the end of this page have more on this attack. The 2nd page that I've linked to says with regard to the rescue (by 2nd Officer B. M. Metcalf): "On the sixth day in the boat, at about 1000 hours we sighted a ship, and having set off flares, noted that the ship was signalling by Aldis - 'Proceeding to pick you up', and altered course towards us. The sail was then taken down, and we went alongside in a seamanlike manner, where having boarded, discovered that she was the Norwegian Tamerlane, and at first found my legs to be terribly weak after the boat passage. I was greeted by a stewardess who hugged me, and was weeping profusely. Having reported to the master, Capt Kraft, I informed him as to the other boat, which I estimated to be 20 miles or so to the NNE; he agreed to alter course to search for it, but after a while received a message to the effect that there were submarines in the vicinity, and he had to abandon the search." The survivors were landed in Rio de Janeiro, where Tamerlane arrived on July 10, according to Page 3 (the survivors from Willimantic subsequently came home aboard the Royal Mail liner Highland Monarch - this ship later arrived Liverpool on Aug. 14).
Tamerlane also rescued survivors (20?) from the British Medon, which had been sunk by the Italian submarine Reginaldo Giuliani on Aug. 10-1942 (ref. link at the end of this page - survivors from another ship mentioned, the American California, were rescued by the Norwegian Talisman).
In the spring of 1943, A. Hague has included her, together with the Norwegian Hai Lee, in Convoy TS 36, departing Takoradi on Apr. 22, arriving Freetown on the 27th. From there, she subsequently headed to New York, where she arrived May 10. Page 3 has the rest of her 1943 voyages, while her 1944 voyages are listed on Page 4 (both showing some long stays in port).
In May-1944, we find her in Convoy RS 17, which left Gibraltar on May 14 and arrived Freetown on the 21st; Tamerlane, however, had joined from Dakar, having left on May 19. A. Hague now has her in Convoy STL 23, departing Freetown on May 22. This convoy had Lagos as its destination, where it arrived May 27. A. Hague says she had been detached from the convoy on May 25; according to the archive document, she was bound for Matadi, but arrival there is not given. She's said to have sailed from Congo River on June 3, arriving Takoradi June 7, later proceeding to New York, where she remained for a long time before heading back to Dakar (Page 4), subsequently joining Convoy OS 84 from there. For info, this convoy had started out in Liverpool as the combined convoy OS 84/KMS 58 on July 21 and split up on Aug. 1, the KMS convoy arriving Gibraltar on Aug. 2, while the OS convoy continued to Freetown, with arrival Aug. 10. Note that Tamerlane was not present from the U.K., but joined OS 84 from Dakar, as already indicated, having left on Aug. 7. She departed Freetown again on Aug. 12, joining Convoy STL 28, which arrived Lagos on Aug. 17; Tamerlane arrived Takoradi on the 16th, proceeding to Lagos a few days later.
Direct links to all the convoys mentioned here have been provided within the Voyage Record above.
Further voyages can be found on Page 4 and Page 5 (to Apr.-1946), again showing occasional long stays in port (New York).


Sold on June 1-1962 to Conpac Schiffahrts GmbH (Helmut Bastian), West Germany and renamed Alisios. Sold in Dec. 1963 to Ulises Maritime Co. S.A., Panama. Sold in 1967 to Naviera Maritima Fluvial S.A., Peru. Handed over at Shanghai to Chinese shipbreakers on Dec. 20-1971.


Related external links:
The attack on Willimantic
The 2nd Officer's account - Scroll down on the page for info on the rescue by Tamerlane. Part of the website Merchant Navy Officers.
Reginaldo Giuliani - The attack on Medon is mentioned.
Back to Tamerlane on the "Ships starting with T" page.


The company later had another ship by this name from 1967 till 1978.


The text on this page was compiled with the help of: Wilh. Wilhelmsen fleet list, and misc.