D/S Rimfakse
Updated Oct. 16-2010
To Rimfakse on the "Ships starting with R" page.

Crew List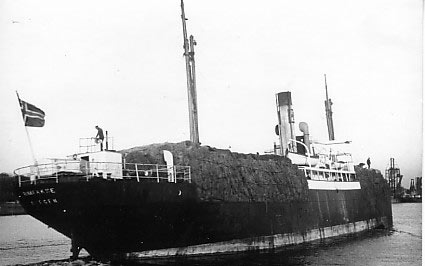 From Bjørn Milde's postcard collection.



Owner: D/S A/S Ringhorn
Manager: Albert Schjelderup, Bergen
Tonnage: 1334 gt, 748 net, 2200 tdwt.
Signal Letters: LERO

Built by Kockums mek. Verkstads A/B, Malmö, Sweden, delivered in March-1921 as Rimfakse to D/S A/S Ringhorn (Albert Schjelderup), Bergen. 235.5' x 37.7' x 16.5', Triple exp. (Kockum), 160 nhp.



Captain: Ivar Lønne



Her voyages are listed on these original images from the Norwegian National Archives:
(unfortunately, Page 2 has some information missing in the margin)
Page 1 | Page 2


Please compare the above voyages with Arnold Hague's Voyage Record below.



  Voyage Record
From Sept.-1940 to Apr.-1941:  

(Received from Don Kindell - His source: The late Arnold Hague's database).

Follow the convoy links provided for more information on each.

Errors may exist, and some voyages are missing.
1940
Sept. 10
Sydney, C.B.
Liverpool
Sept. 26
SC 4
Earlier voyages:
Page 1
(gives arrival Sharpness, Sept. 28.
Also, missing movements)
Oct. 20
Milford Haven
–
–
OB 232
For Sydney, C.B.
Dispersed 56 30N 26 50W, Oct. 26
(Page 1 gives arrival Nov. 3).
Convoy available at OB 232
(external link)
Missing voyages, Page 1.
Nov. 22
Sydney, C.B.
Liverpool*
Dec. 7
SC 13
*Arrived Clyde
(Page 1)
1941
Jan. 1
Clyde
Methil
Jan. 5
WN 63
Convoy available at WN convoys
(external link)
Missing movements, Page 1
Febr. 13
Methil
Oban
Febr. 17(?)
EN 71/1
Convoy available at EN convoys
(external link)
*
Febr. 15
Liverpool
Gibraltar
March 1
OG 53
Convoy will be added.
See ships in OG convoys
*Rimfakse left Oban Febr. 16, arrived Bonanza March 1, on to Seville same day, see Page 1 - later arrived Gibraltar, March 14, see Page 2.
March 15
Gibraltar
Oban
March 31
HG 56
–
Apr. 4
Oban
Methil
Apr. 7
WN 109
Convoy available at WN convoys
(external link)
Missing movements, Page 2
Apr. 20
Blyth
Loch Ewe
Apr. 23
EC 9
Convoy available at EC convoys
(external link)
Left Loch Ewe, Apr. 25/26
(Page 2).
Sunk - See Final Fate" below.



As will be seen when going to Page 1 of the archive documents, Rimfakse was in Antwerp when war broke out in Norway on Apr. 9-1940.

It'll also be noticed that she appears to have spent a long time at Grangemouth that summer, later making a voyage from the U.K. to Pugwash in Aug.-1940, with arrival Aug. 28. I have no convoy information for this voyage, had she sailed independently? She headed back to the U.K. on Sept. 10 in the slow Convoy SC 4 from Sydney, C.B., which had a lot of Norwegian ships. Rimfakse was bound for Sharpness with a cargo of lumber, arriving that destination on Sept. 28. The following month she's listed as bound for Sydney, C.B. in ballast in station 24 of Convoy OB 232, originating in Liverpool on Oct. 21, dispersed on the 26th. Heien, Lysaker IV, Måkefjell, Polyana, Siak, Skiensfjord (Commodore Vessel) and Tyr are also listed - see external link within the Voyage Record. Rimfakse arrived Sydney, C.B. on Nov. 3, having started out from Milford Haven on Oct. 20. She returned to the U.K. later that month with Convoy SC 13, cargo of pit props for Sunderland, where she eventually arrived (via various other ports) on Jan. 8-1941, remaining there for a month.

In Febr.-1941, she made a voyage to Bonanza and Seville, having joined Convoy OG 53, which originated in Liverpool on Febr. 15 and arrived Gibraltar on March 1; Rimfakse sailed from Oban on Febr. 16 and arrived Bonanza March 1, Seville on March 4 - again, see Page 1. This convoy will be added to an individual page in my Convoys section; in the meantime, the ships sailing in it (and escorts) are named on the page listing ships in all OG convoys (her name is mis-spelt). Fana and Gudvin are also included. Together with Fanefjeld, Rimfakse went back to the U.K. later that month in Convoy HG 56 from Gibraltar. She had a cargo of iron ore for Middlesbrough, station 14, arriving there, via Oban and Methil Roads, on Apr. 8, according to Page 2.
More info on the other Norwegian ships mentioned here can be found via the alphabet index at the end of this page, or go to the Master Ship Index.


As mentioned,
Rimfakse
had arrived Middlesbrough on Apr. 8-1941. From, there she went to Blyth, with arrival Apr. 13. She left Blyth again on Apr. 20 with a cargo of 1900 tons coal for Patricksfjord, Iceland, sailing in
Convoy EC 9
to Loch Ewe (external link, incomplete listing.
Cresco, Don, Fanefjeld, Freidig, Grado, Heien, Henrik Ibsen, Jernfjeld, Kul, Leka, Libra, Ophir, Sjofna, Trajan, Varøy, Vestland
and
Ørnefjell
are included), where she arrived Apr. 23, then departed alone on Apr. 25.
At 01:50 on the 27th she was struck in the after part of No. 2 hatch, port side, by a torpedo from U-147 (Eberhard Wetjen had just taken over the command earlier that month, previously commanded by Reinhard Hardegen), position 60 10N 08 54W (about 130 n. miles northwest of Scotland - A visitor to my site has told me that "Shipwreck Index of the British Isles" gives the position as east of the Shetlands, 60 10N 00 54W). 2nd Mate Rolseth, who was on watch at the time saw that No. 2 hatch had burst open and pieces of hatches were flying around. The ship immediately started to sink by the bow, listing heavily to port, and was gone within 2 minutes, leaving no time to launch lifeboats. The 2nd mate was thrown overboard after having cut the lashings and attempting to lower the port boat together with Able Seaman Kiika, who had been at the wheel when the torpedo struck. The latter then climbed onto the port raft while it was still on board, and after it had floated free he assisted the 2nd mate in getting onto it.
8 men in all eventually managed to get on the raft. They heard others crying for help in the dark, but they had no means of maneuvering the raft to go to their shipmates' aid, and the cries stopped after a couple of hours. At dawn they tore loose a couple of planks, and after having struggled for two hours they managed to paddle over to another raft. They distributed themselves on these and lashed them together; no other survivors were to be seen.
At 12:45 they were picked up by S/S Hengist of Leith and landed in Crabster (Scrabster?) the next day, Apr. 28. The captain, who had injured his leg, was left behind at Durham Hospital, Thurso, while the others travelled to Newcastle and London.
10 Norwegian seamen and 1 Estonian had died. For a long time they nurtured the hope that the U-boat had picked up the others from the sea, as it had been seen in the direction of the shouts for help, but it later turned out not to be so.
An inquiry was held in London on May 3-1941 with the 2nd mate appearing. Statements from the radio operator, the 1st engineer, and Able Seaman Kiika were taken on May 6. (Captain Lønne was still in hospital at that time).
Stoker Aksel Larsson had been on watch in the engine room at the time of the explosion, but was believed to have been able to get out, because the British trimmer had seen him with his life jacket on.
Able Seamen Jacobsen and Sivertsen and Ordinary Seaman Lekven had been off duty and were in the forward berths, believed to have lost their lives on board. The steward was also believed to have died on board in his port amidships cabin.
The Estonian Ordinary Seaman Saar had been on lookout duty but had gone down from the bridge before the explosion in order to call the 1st mate. Able Seaman Kiika, who had just climbed on the raft, had heard shouts from him from inside amidships - he may have been in the galley making coffee for the 1st mate.
The 2nd engineer had last been seen on deck (with no lifesaving jacket on) by the 1st engineer, who had also seen Donkeyman Hansen and Stoker Olsen by the starboard lifeboat, the latter in his pyjamas, wearing no lifesaving jacket. They both jumped overboard, but were not seen again.
For info, U-147 had also been responsible for the attack on Augvald the previous month - follow link for details (the U-boat was sunk with all hands on June 2-1941 - ref. external link provided below).


Survivors

Captain
Ivar Lønne

2nd Mate
Per D. Rolseth

Radio Operator
William F. Morris
(British)

Able Seaman
Sulo Viktor Kiika
(Finnish)

1st Engineer
Johannes Lavold

Stoker
Aksel Olai Rask

Trimmer
Bernhard McGorrigan
(British?)

Mess Boy
Hugh J. Fraser
(Canadian)

Casualties

†
1st Mate
Alf M. Johannessen

†
Able Seaman
August Jacobsen

†
Able Seaman
Fredrik Sivertsen

†
Ordinary Seaman
Konstantin Saar
(Estonian)

†
Ordinary Seaman
Karl Andreas Lekven

†
2nd Engineer
Magne Laurin Kopstad

†
Donkeyman
Hans Hansen

†
Stoker
Oskar Olsen

†
Stoker*
Aksel Larsson

†
Steward
Petter Jacobsen

†
Cook
Alf Ingebret Olsen

* The 2nd mate refers to Aksel Larsson as Swedish, but he's among the casualties commemorated at the Stavern Memorial (where Norwegians only are included).
Back to Rimfakse on the "Ships starting with R" page.


Norway had also lost a steamship by this name to WW I, built 1909 for Johan Giertsen, Bergen, 1119 gt - torpedoed and sunk by a German U-60 off Hartland Point on Apr. 28-1918, voyage Bilbao-Cardiff with iron ore (managed by Albert Schjelderup, Bergen at the time of loss).


The text on this page was compiled with the help of: "Nortraships flåte", J. R. Hegland, "Sjøforklaringer fra 2. verdenskrig", Norwegian Maritime Museum, Volume II, and misc. (ref. My sources).