M/S Høegh Merchant
Updated Oct. 25-2011
To Høegh Merchant on the "Ships starting with H" page.

Log & Crew / Passenger List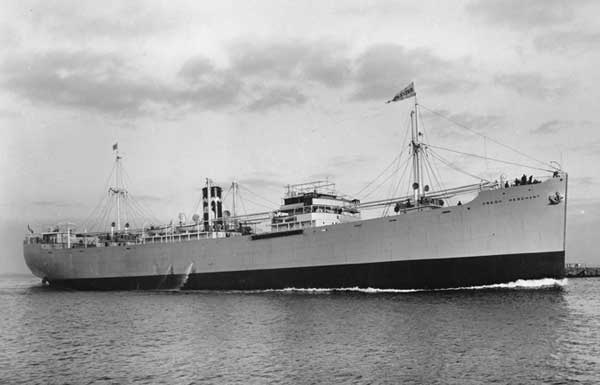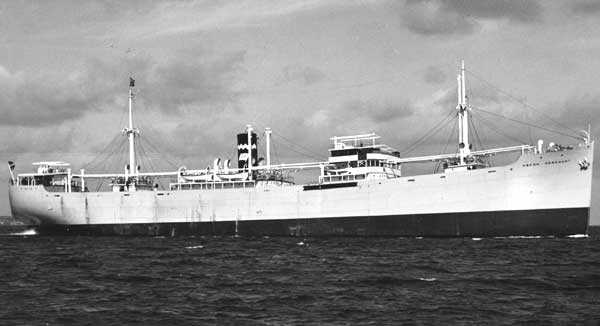 These pictures were very kindly sent to me by Historical Department, MAN B&W Diesel, Copenhagen. Here is one more picture.
(See also their museum website).
The Australian War Memorial has another picture of this ship (external links).


Owner: Skibsaktieselsk. Abaco, Aruba, Astrea & Noruega.
Manager: Leif Høegh & Co. A/S, Oslo
Tonnage: 4858 gt, 2921 net, 8575 tdwt.
Dimensions: 387' 10" x 54' 2"
Machinery: 6-cyl. two stroke cycle double acting oil engine by the shipbuilders.
Call Sign: LIWC.
Completed by Burmeister & Wain, Copenhagen in Sept.-1934.


Captain: Einar Andersen.


Her voyages are listed on these original images from the Norwegian National Archives:
(unfortunately, Page 2 has some information missing in the margin)
Page 1 | Page 2 | Page 3
As will be seen when going to Page 1 above,
Høegh Merchant
was on her way from San Francisco to Hong Kong when war broke out in Norway on Apr. 9-1940. (Her 1941 voyages start on Page 2).
(It'll be noticed that some of this does not quite match the info found on
Page 3
).
Høegh Merchant (in Silver Java Pacific Line) had arrived San Francisco from Manila on Nov. 9-1941, unloaded some cargo, then headed to San Pedro where the rest of her cargo was discharged before taking on a new cargo for Java there (for private consignees). With about 1350 tons in her holds she headed for San Francisco to be docked at Moore Dry Dock, Oakland on Nov. 22. 3 days later, on Nov. 25 she proceeded to Richmond to load lube oil in barrels as well as cement, then went to Pier 50 A in San Francisco on the 26th where she added some more general cargo (old newspapers, lumber etc - total cargo when done, 7500 tons) meant for Manila, Singapore, Batavia, Samarang, Sourabaya, Madras, Colombo and Bombay. She was at this pier until Dec. 3 at which time she headed further out in order to load TNT (80 tons) and dynamite (20 tons) in especially built rooms in the shelter deck, then departed for Manila the following afternoon, Dec. 4. (Before she left, Repair Man A. Furuhaug, Ordinary Seaman Eilif Henriksen, and Galley Boy Nils Olsen paid off).
On Dec. 7 (attack on Pearl Harbor) she was ordered to head for a British, Dutch or U.S. port, so course was altered back to San Francisco. However, on Dec. 8 a telegram was received via Vancouver Radio instructing them to go to Honolulu. In the afternoon of Dec. 13 they could see land straight ahead, but not knowing the conditions they stopped about 20 n. miles from Makapuu Point to await sailing directions and daylight, and was still lying still when she was torpedoed by the Japanese submarine I-16 (Yamada) (or was it I-4? see * below) in the early morning hours of Dec. 14-1941 - time given in the captain's report is 03:55. The torpedo hit on the starboard side near No. 3 hatch. The captain asked the radio operator to contact the Navy Station in Honolulu, but no messages could be sent. Some sacks of potatoes in the hold caught on fire, but the flames died out by themselves. However, 10-15 minutes later another explosion occurred in the same hold, believed to have been caused because water had seeped into the carbide located there. Considering the explosives on board the captain now ordered the ship to be abandoned. All 40 had survived (incl. 5 passengers) and were rescued from the lifeboats soon afterwards by the American destroyer USS Trever (DMS 16) and taken to Honolulu. The commander later told them that he had seen the fire from Trever 7 miles away.
*Leif Høegh's fleet list claims I-16 sank this ship. Jürgen Rohwer says Høegh Merchant was sunk by I-4 (Nakagawa) on Dec. 15-1941, 29 n. miles off Cape Makapuu. The submarine corresponds with what is found in "The Official Chronology of the U.S. Navy in World War II" by Robert J. Cressman. He says it happened on the 14th, which is the correct date, according to USS Trever's log.
The maritime hearings were held on Jan 8-1942 with the 1st mate, both 2nd mates, the 3rd mate, the 1st engineer, the 3rd engineer, the radio operator, Ordinary Seaman Brandvik, and Ordinary Seaman Norin appearing. A group of Japanese submarines had been on patrol in this area ever since the attack on Pearl Harbor, but nothing suspicious had been seen from Høegh Merchant before the explosion occurred, in spite of extra lookouts, and they did not realize they had actually been torpedoed until much later, but instead thought they had perhaps struck a mine, or that the explosion could have had some other cause. This idea is also presented at the maritime hearings. Most of the witnesses who appeared stated that neither explosion was very powerful, but sounded more like dull "thumps". A couple of them did state they thought they had heard a noise outside the ship immediately before the first explosion.


The copy of the handwritten report was very hard to read, so some words and names may not be 100% correct. The report is dated Sunday Dec. 14-1941, and was very kindly sent to me by a visitor to my site. pgc is an abbreviation for "per gyro-compass".
0-4 – Steaming on alternate courses 160 ° T and 340 ° T at 10 knots speed patrolling off Oahu and Molokai T. H. standing by to pick up convoy.
0355 sighted lights and flare up bearing 355° T.
0359 Changing course to 340° T 341° pgc proceeding to investigate lights. Boilers # 3 and # 4 in (use?). # 1 and # 2 standing by on fifteen minutes notice.
4-8 – Steaming as before on course 340° T, 341° pgc at 10 knots.
0405 c/s 15 knots. 0420 general quarters(?)
0422 Sighted merchant vessel Høegh Merchant bearing 050° T, in sinking condition, crew and passengers in small boats.
0441 c/s 10 knots. Steaming on various courses standing by to lend assistance, (then a word I can't read, looks like circling) awaiting daylight.
0533 Høegh Merchant sank.
0620 Stopped to pick up survivors from two lifeboats. Rescued 23 persons.
0645 Continuing rescue operation. 6 persons rescued from boat # 3.
0657 Boat # 4 alongside with 11 members of crew and passengers.
0658 Crew and passengers aboard. Rescue completed, all hands safe aboard. Total 35 crew, 5 passengers.
0659 c/s 5 knots c/c 249° T, 250° pgc.
0701 c/s 20 knots c/c 229° T, 230° pgc (then a word I can't read) Honolulu.
0705 c/s 25 knots. 0706 c/c 209° T, 210° pgc.
0724 Sighted ship bearing 210° T, distance 10 miles.
0735 Ferry passed abeam to port distance 1000 yds. 0753 c/c 219° T, 220 pgc.
8-12 – Steaming as before on course 219° T 220° pgc at (illegible word, flank?) speed 25 knots.
Then it looks like
0800 Mustered crew on station; illegible, A.F WT c/c absent.
0803 Makapuu(?) light abeam to starboard distance 1 1/2 miles.
0814 Changed course to 249° T 250° pgc.
0819 Slowed to 20 knots.
0821 Changed course to 259° T 260 pgc.
0827 Changed course to 265° T 266° pgc.
0830 Changed course to 274° T 275° pgc.
0835 Slowed to 10 knots.
0845 Changed course to 309° T 310° pgc.
0850 Stopped.
0904 Coast Guard cutter C.G. 403 came alongside to receive the crew and passengers of the Norwegian Motor Vessel Høegh Merchant. Transferred the following members of the crew and passengers of the Høegh Merchant vessel to C.G. 403:
Crew & Passenger List - All survived:
Norwegian, unless otherwise noted.
This list has been checked against what is found in "Sjøforklaringer fra 2. verdenskrig", Norwegian Maritime Museum, Volume I, and corrected where necessary (though the 2 lists were more or less identical - two 2nd mates were listed in both).
Captain
Einar Andersen

1st Mate
Arvid Rode Ulve

2nd Mate
Aage Lundesgaard

2nd Mate
Leiv Jakobsen

3rd Mate
Johan Olsen

Radio Operator
Norman Cross
(English)

Carpenter
Karolius Karlsen

Boatswain
Sjur Hansen

Able Seaman
Berge Nilsen

Able Seaman
Hary Godø

Able Seaman
Svend Nielsen
(Danish)

Able Seaman
Edward Erdelyi
(Hungarian)

Ordinary Seaman
Rolf Norin

Ord. Seaman
Thorleif Jørgensen

Ord. Seaman
Olav Johan Flokenes

Ord. Seaman
Reidar Pilskog

Ord. Seaman
Johan Brandvik

Chief Engineer
Lars Kristoffersen

2nd Engineer
Ingemann Larsen

3rd Engineer
Arne Rokkenes

4th Engineer
Johan Hansen

Electrician
Dag Rødseth

Repair Man
Preben Holst
(Danish)

Mechanic
Norman Dyrseth

Mechanic
Jens Peter Willumsen
(Danish)

Mechanic
Gustav Gabrielsen
(Swedish)

Mechanic
Sven Almsedt
(Swedish)

Mechanic
(Oiler?)
Sigurd Johnsen

Mechanic
Kristian Johansen

Oiler
Henry Boslooper
(Dutch)

Steward
Alfred Andersen

Cook
Axel Öhrngren
(Swedish)

Mess Boy
Ah Chin
(Chinese)

Mess Boy
(2nd Cook?)
Lauren D. Locke
(American)

Saloon Boy
Han Joe Juan
(Chinese)

Passengers:

Mr. and Mrs. Constante V. Batoon
(Philippines)

Mr. Pedro S. Talavera
(Philippines)

Mr. Amadeo J. Rodriguez
(Philippines)

Dr. Leopoldo U. Toralballa
(Philippines)
Trever's log continues:
0918 Coast Guard cutter C.G. 403 left from alongside.
0920 On signal commenced steaming on various courses and at various speeds, standard speed 15 knots (151 - then illegible word) to join Perry.
1054 Sighted Perry and set course 165° pgc 166° T at full speed, 20 knots.
1101 Reported to Perry for duty. Changed course to 050° pgc 049° T and changed speed to - looks like flank speed 25 knots.
1108 Changed course to 040° pgc 039° T.
1112 Changed course to 030° pgc 029° T. Made daily inspection of (engines?) and S.P. samples; condition normal.
The report from the next man on duty, 12-16, is illegible - looks like the USS Trever then "proceeded independently to Pearl Harbor", but left Pearl Harbor entrance at 1536 the same day (this would have been just a week after the attack on Pearl Harbor).


Related external links:
Japanese submarines
Other ships by this name: Leif Høegh later had 3 more ships by this name:
The 2nd one was built in San Francisco in 1941 as American Manufacturer for United States Lines Co., 6821 gt., and bought by Leif Høegh in Febr. 1948, renamed Høegh Merchant. Sold in 1956 and renamed Mathilda (still Norwegian), then sold to the Philippines in 1963 and renamed President Osmena. Sold again in 1965 and renamed Seven Generals (still Philippines).
The 3rd one was a bulk/vehicle carrier, built at Hakodate in 1966, 16 464 gt, sold to London in 1974 and renamed Avon.
The 4th was a container/bulk carrier of 27 104 gt, built in Nagasaki, Japan in 1977. Sold to Panama in Dec.-1983 and renamed Westwood Merchant, on bareboat charter to Leif Høegh.


The text on this page was compiled with the help of: "Nortraships flåte", J. R. Hegland, Leif Høegh & Co. fleet list, "Sjøforklaringer fra 2. verdenskrig", Volume I, Norwegian Maritime Museum, and misc. others as named within the above text - ref. My sources.