M/T Fosna
Updated Aug. 20 -2011
To Fosna on the "Ships starting with F" page.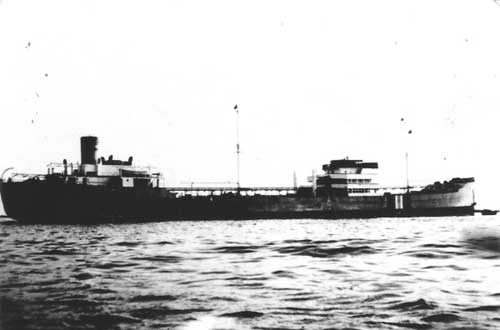 Source: Bjørn Pedersen's collection.
The Australian War Memorial also has a picture of Fosna, taken in July-1943 (both links are external).


Manager: A/S J. Ludwig Mowinckels Rederi, Bergen
Tonnage: 8202 gt
Delivered as Fosna in Nov.-1930, built by A/B Götaverken, Gothenburg, hull built by Caledon Shipbuilding & Engineering Co. Ltd., Dundee (340), 8202 gt, 4855 net, 12 310 tdwt, 451.1' x 59.2' x 27.3', 2 x 7 cyl. 4 TEV DM (Götaverken), 3000 bhp.
There's a message with regard to this ship in my Guestbook. The poster of this message is looking for more details about the captain and crew in March-1939, I have his address in my files. (I've suggested he contact the Norwegian Maritime Museum and/or the National Archives. The addresses can be found on the main page of my ship lists).


Managed by British Tanker Co. during the war.


Her voyages are listed on these original images from the Norwegian National Archives:
Page 1 | Page 2 | Page 3 | Page 4
Please compare the above voyages with Arnold Hague's Voyage Record below.
Voyage Record
From Apr.-1940 to Jan.-1946:
(Received from Don Kindell - His source: The late Arnold Hague's database).
Follow the convoy links provided for more information on each.
1940
Apr. 24
Suez
Abadan
May 7
Independent
Earlier voyages, Page 1
May 8
Abadan
Capetown
June 1
Independent
–
June 8
Capetown
Abadan
–
Independent
–
July 2
Abadan
Bombay
July 10
Independent
–
Aug. 3
Bombay
Colombo
Aug. 8
Independent
–
Aug. 11
Colombo
Abadan
Aug. 22
Independent
–
Aug. 24
Abadan
Fremantle
Sept. 21
Independent
–
Sept. 22
Fremantle
Auckland
Oct. 9
Independent
–
Nov. 4
Auckland
Palembang
Nov. 24
Independent
See also Page 1 above
Nov. 27
Palembang
Colombo
Dec. 4
Independent
–
Dec. 8
Colombo
Aden
Dec. 17
Independent
–
Dec. 18
Aden
Suez
Dec. 25
BN 11
Convoy available at BN 11
(external link)
1941
Jan. 14
Port Said
Piraeus
Jan. 18
AN 12
Convoy available at AN 12
(external link)
Jan. 23
Piraeus
Salonika
Jan. 25
Independent
–
Jan. 31
Salonika
Piraeus
Febr. 2
Independent
A. Hague says:
Notional sailing date
(Page 1 gives departure Jan. 29)
Febr. 3
Piraeus
Port Said
Febr. 7
AS 14/1
Convoy available at AS 14
(external link - incomplete listing)
March 11
Suez
–
–
BS 19
For Abadan.
Dispersed March 19.
Convoy available at BS 19
(external link)
March 19
Dispersed from BS 19
Abadan
March 27
Independent
–
March 30
Abadan
Capetown
Apr. 23
Independent
–
May 8
Capetown
Freetown
May 25
Independent
–
June 16
Freetown
Curacao
July 8
Independent
–
July 9
Curacao
New York City
July 20
Independent
–
Oct. 20
New York City
Aruba
Oct. 27
Independent
–
Oct. 29
Aruba
Cristobal
Nov. 1
Independent
–
Nov. 3
Balboa
Wellington
Dec. 3
Independent
–
Dec. 27
Wellington
Los Angeles
Jan. 25-1942
Independent
–
1942
March 5
Los Angeles
Wellington
Apr. 3
Independent
–
Apr. 21
Wellington
Los Angeles
May 20
Independent
–
June 7
Los Angeles
Wellington
July 8
Independent
–
Aug. 1
Wellington
Los Angeles
Aug. 26
Independent
–
Nov. 16
Los Angeles
Wellington
Dec. 11
Independent
–
Dec. 16
Wellington
Los Angeles
Jan. 10-1943
Independent
–
1943
Jan. 17
Los Angeles
Wellington
Febr. 11
Independent
–
Febr. 14
Wellington
Port Vila
Febr. 22
Independent
–
Febr. 25
Port Vila
Los Angeles
March 19
Independent
–
Apr. 15
Los Angeles
Wellington
May 10
Independent
–
May 14
Wellington
Los Angeles
June 7
Independent
–
June 18
Los Angeles
Sydney, N.S.W.
July 16
Independent
–
July 22
Sydney, N.S.W.
–
–
CO 111
Disprsed July 25.
Convoy available at CO 111
(external link)
July 25
Dispersed from CO 111
Abadan
Aug. 24
Independent
–
Aug. 26
Abadan
Bandar Abbas
–
Independent
–
Aug. 31
Bandar Abbas
–
–
PA 51
Detached Sept. 2.
Convoy available at PA 51
(external link)
Sept. 2
Detached from PA 51
Durban
Sept. 22
Independent
–
Oct. 2
Durban
Abadan
Oct. 26
Independent
–
Oct. 28
Abadan
Bandar Abbas
–
Independent
–
Nov. 3
Bandar Abbas
Bombay
Nov. 9
PB 62
Convoy available at PB 62
(external link)
Nov. 18
Bombay
Bandar Abbas
Nov. 24
BP 103
Convoy available at BP 103
(external link)
Nov. 24
Bandar Abbas
Abadan
–
Independent
See also Page 2
Nov. 28
Abadan
Bandar Abbas
–
Independent
–
Dec. 3
Bandar Abbas
–
–
PA 63
Detached Dec. 5.
Convoy available at PA 63
(external link)
Dec. 5
Detached from PA 63
Melbourne
Jan. 2-1944
Independent
–
1944
Jan. 8
Melbourne
Balboa
Febr. 10
Independent
–
Febr. 13
Cristobal
Cartagena, Col.
Febr. 15
Independent
–
Febr. 17
Cartagena, Col.
Cristobal
Febr. 18
Independent
–
Febr. 18
Cristobal
Gitmo
Febr. 22
ZG 59
Convoy available at ZG 59
(external link)
Febr. 23
Gitmo
New York City
Febr. 29
GN 116
Convoy available at GN 116
(external link)
March 30
New York City
Baltimore
Apr. 1
Independent
–
May 17
Baltimore
Philadelphia
May 18
Independent
–
May 19
Philadelphia
New York City
May 20
Independent
–
May 27
New York City
Belfast Lough
June 9
HX 293
Escort Oiler
(see also narrative below)
June 9
Belfast Lough
Heysham
June 10
Independent
–
June 12
Heysham
Liverpool
June 13
Independent
–
June 18
Liverpool
New York City
July 2
ON 241
Escort Oiler, 53 depth charges.
Convoy will be added.
See ships in ON convoys
July 11
New York City
Loch Ewe
July 23
HX 299
Escort Oiler, 60 depth charges
July 24
Loch Ewe
Methil
July 26
WN 611
Convoy available at WN 611
(external link)
Compare w/Page 2
July 29
Methil
Loch Ewe
July 31
EN 414
Convoy available at EN 414
(external link)
Aug. 2
Loch Ewe
New York City
Aug. 16
ON 247
Convoy will be added.
See ships in ON convoys
Aug. 25
New York City
Swansea
Sept. 10
HX 305
Escort Oiler, 60 depth charges
Sept. 12
Swansea
Clyde
Sept. 12
Independent
–
Sept. 13
Clyde
Philadelphia
Sept. 29
ON 253
Convoy will be added.
See link above
Oct. 3
Philadelphia
New York City
Oct. 4
Independent
–
Oct. 5
New York City
Belfast Lough
Oct. 19
HX 312
Escort Oiler
Oct. 19
Belfast Lough
Heysham
Oct. 21
Independent
–
Oct. 23
Heysham
Liverpool
Oct. 23
Independent
–
Oct. 25
Liverpool
Baltimore
Nov. 11
ON 262
Convoy will be added.
See link above
Dec. 9
Baltimore
Philadelphia
Dec. 10
Independent
–
Dec. 12
Philadelphia
New York City
Dec. 13
Independent
–
Dec. 14
New York City
Avonmouth
Dec. 28
HX 326
Escort Oiler, 60 depth charges
1945
Jan. 8
Avonmouth
Milford Haven
Jan. 8
Independent
–
Jan. 9
Milford Haven
New York City
Jan. 23
ON 277
Escort Oiler
Febr. 28
New York City
Clyde
March 16
HX 341
Escort Oiler.
Missing movements, Page 3
Convoy will be added.
See ships in HX convoys
March 22
Clyde
New York City
Apr. 8
ON 292
Escort Oiler.
Convoy will be added.
See ships in ON convoys
Apr. 13
New York City
Downs
Apr. 29
HX 350
Escort Oiler, 60 depth charges.
See also Page 3
Convoy will be added.
See ships in HX convoys
May 2
Southend
New York City
May 19
ON 300
Escort Oiler.
Convoy will be added.
See ships in ON convoys
May 23
New York City
Clyde
June 6
HX 358
Escort Oiler, 60 depth charges.
Convoy will be added.
See ships in HX convoys
June 9
Clyde
Houston
–
Independent
See also Page 3
July 2
Houston
London
July 23
Independent
–
July 30
Sheerness
Curacao
Aug. 18
Independent
–
Aug. 31
Curacao
Liverpool
Sept. 18
Independent
–
Dec. 24
Liverpool
Trinidad
Jan. 11-1946
Independent
See also Page 4
Her Trans-Atlantic convoy voyages only are discussed here. For information on prior voyages, and voyages made in between those mentioned here, please see the documents received from the National Archives of Norway and Hague's Voyage Record above. Follow the convoy links provided for more details - other Norwegian ships also took part.
Fosna often acted as escort oiler, and also carried extra depth charges for the escorts.
"Nortraships flåte" states that Fosna fired upon a suspicious vessel in 08 04N 74 48E on Dec. 9-1940. The ship later turned out to be the British Katie Moller. When going to Page 1 of the archive documents, we learn that Fosna was on her way from Colombo to Aden on that date. According to the same document (as well as Hague's Voyage Record above), she spent quite a long time in New York the following year, from July 20-1941, when she arrived there from Curacao, to Oct. 20, when she left again for Aruba. There's also a long gap in her voyages for the fall of 1942 (see Page 2); she had arrived Los Angeles from Wellington on Aug. 26 that year, and departure date is given as Nov. 16.
Skipping now to May 19-1944, when she was scheduled for the New York-U.K. Convoy HX 292, but instead joined the next convoy on May 27, HX 293, for which Samuel Bakke acted as Commodore Vessel. Together with Brasil, Drammensfjord, Egda, Evita, Lista, Minerva, Solfonn and Spinanger, as well as the Panamanian Norbris and Norlys (both had Norwegian managers), Fosna returned to New York with Convoy ON 241*, departing Liverpool on June 18, arriving New York July 2, heading back to the U.K. again on July 11 in Convoy HX 299. Commodore was in Laurits Swenson, and the Vice Commodore in Høyanger. Fosna's destination is given as Grangemouth, where she arrived, via Loch Ewe, on July 26. A week later, we find her, along with Belinda, Brasil, Heranger, Høegh Scout, Slemmestad, Spinanger, Vanja and Vinga, in the westbound Convoy ON 247*, which originated in Liverpool on Aug. 2 and arrived New York on the 15th, and on the 25th of that month, she joined Convoy HX 305, bound for Swansea, with arrival there on Sept. 9, according to Page 3. Again, the Commodore was in a Norwegian ship, namely Abraham Lincoln.
Fosna subsequently returned to the U.S. in Convoy ON 253*, originating in Liverpool on Sept. 13, arriving New York on the 28th; Fosna joined from Clyde and arrived Philadelphia on the 29th. Dalfonn, Kronprinsessen, Marit II and Tanafjord are also listed. The following month, she's listed in Convoy HX 312, bound for Heysham, with arrival Oct. 21, returning across the Atlantic with Convoy ON 262*; she left Liverpool on Oct. 25 and arrived Baltimore Nov. 11. Other Norwegian ships were Anna Knudsen, Dalfonn, Norma, Skotaas, Somerville and Spinanger. Her last Trans-Atlantic voyage that year started out from New York on Dec. 14, Convoy HX 326. This time, she was bound for Avonmouth, where she arrived Dec. 28. Acanthus is named among the escorts for this convoy - see HX convoy escorts.
She returned to the U.S. with Convoy ON 277 in Jan.-1945, and on that occasion picked up a survivor from the American Jonas Lie which had been torpedoed. Follow the link for more info, as well as the external link provided below (Acanthus was again among the escorts for a while). Fosna headed back to the U.K. again on Febr. 28, joining Convoy HX 341*, together with Belinda, Egda, Fernmoor and Gefion, then in March she sailed to New York in Convoy ON 292*, which also included Egerø, Fjordaas, Gefion, Havfru, Ivaran (Commodore Vessel), Lista, Norsol and President de Vogue. This convoy arrived New York on Apr. 8, and a few days later, on Apr. 13, she joined Convoy HX 350* back to the U.K. - again, see also Page 3. She was again in the company of several other Norwegian ships, namely Egerø, Gefion, Havfru, President de Vogue, Haakon Hauan and Thorshov. In May, we find her in the westbound Convoy ON 300*, along with Carl Oftedal, Gefion, Heranger (Commodore Vessel), John Bakke and Viggo Hansteen (A. Hague has also included Narvik, but this is an error). Fosna's last Trans-Atlantic convoy voyage was made in Convoy HX 358*, which left New York on May 23 and also had Ferncourt, Gefion and Tungsha in its ranks.
Page 4 shows voyages to Febr.-1946.
* The ON convoys will be added to individual pages in my Convoys section in due course, along with further details on each. In the meantime, the ships sailing in them (and escorts) are named in the section listing ships in all ON convoys. The entire HX series will also be updated and completed (including the already existing convoys), but for now, please see ships in all HX convoys.

More information on the other Norwegian ships mentioned on this page is available via the alphabet index below, or go to the Master Ship Index.


Sold in 1951 to D'Amico Societa di Navigazione SpA, Rome, and renamed
Marinella
. Laid up at Venice from March 7-1958. Sold to Italian breakers during Aug.-1960.
Related external links:
The loss of Jonas Lie
A casualty - This man, Able Seaman Mons Havnerås is listed as having died in an accident on board on July 29-1943. According to Page 2, Fosna was on her way from Sydney to Abadan on that date. Additionally, I've been told by a visitor to my site that Ordinary Seaman Otto Johannes Nyberg, from Askvoll in Sogn og Fjordane lost his life in an accident in Auckland, New Zealand on Oct. 18-1940, and is buried there. (Source for this information: "Våre falne"). From Page 1, we learn that Fosna had arrived Auckland on Oct. 9.