M/S Crux
Updated June 21-2011
To Crux on the "Ships starting with C" page.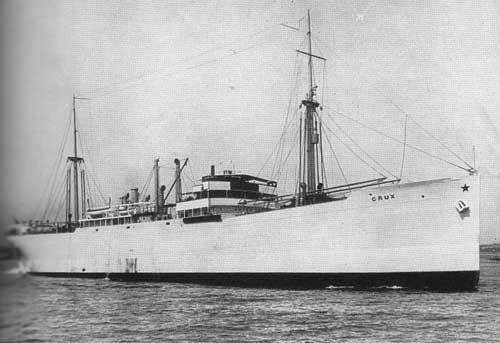 Source: Bjørn Milde's postcard collection.


Manager: Det Bergenske Dampskibsselskab, Bergen
Tonnage: 3828 gt, 2298 net, 6850 tdwt.
Call Sign: LDRF.
Ordered by Bergenske D/S in 1915, delivered in July-1923 from Burmeister & Wains Maskin- og Skibsbyggeri, Copenhagen, Denmark (325), 367.5' x 51.5' x 23.2', 2 x 6 cyl. B & W diesel 1900 bhp, 10.5 knots.
Operated on Den norske Syd-Amerika Linje service, which was owned by Det Bergenske Dampkibsselskab, A/S J. Ludwig Mowinckels Rederi, and Fred. Olsen & Co.


Captain: Einar Hansen


Please compare the above voyages with Arnold Hague's Voyage Record below.


Voyage Record
From March-1940 to June-1940:
(Received from Don Kindell - His source: The late Arnold Hague's database).
Follow the convoy links provided for more information on each.
1940
March 26
Bahia
Madeira
Apr. 12
Independent
–
Apr. 21*
Madeira
Falmouth
May 5
Independent
*Archive document gives departure Apr. 27
May 16
Falmouth
Liverpool
May 19
Independent
–
June 1
Liverpool
Cardiff
June 3
OB 159
For Cardiff.
Convoy available at OB 159
(external link)
June 18
Cardiff
Milford Haven
–
Independent
–
June 20
Milford Haven
–
–
OB 171
For Rio.
Convoy available at OB 171
(external link)
June 21
With OA 171, formed OG 34 at sea
–
–
OG 34
Convoy will be added.
See ships in OG convoys
June 22
Detached from OG 34
–
–
Independent
Sunk - See "Final Fate" below
According to the
archive document
,
Crux
was on her way from Bahia to Madeira when war broke out in Norway on Apr. 9-1940.
That summer, she's listed as bound for Cardiff in Convoy OB 159, leaving Liverpool on June 1. A. Hague has also included Vestfold (Panamanian flag) and Hallfried in this convoy. The external website that I've linked to in the table above has more convoy information. Crux arrived Cardiff on June 3.


Crux
departed Cardiff again with a cargo of 6300 tons patent fuel in the afternoon of June 18-1940, bound for Rio de Janeiro, via Milford Haven for convoy, leaving the latter in Convoy OB 171 in the afternoon of June 20. This convoy joined up with Convoy OA 171 on June 21, the 2 convoys forming the Gibraltar bound Convoy OG 34 (see
ships in all OG convoys
). She's said to have remained with this convoy (station 72) until the morning of June 25* at which time she continued alone, while OG 34 headed south to Gibraltar. At 23:45 that same night she was torpedoed by U-A (Cohausz, a Turkish sub in German service) in 36 52N 14 00W. The torpedo struck on the starboard side, abaft the engine room near No. 4 hatch, causing her to list heavily to port and she immediately started to sink. The starboard lifeboat was destroyed in the explosion, but the port lifeboat and motorboat were launched, and 7 men who had had to jump overboard (incl. the captain) were picked up by this boat. About 3 minutes later,
Crux
went down by the bow.
* This conflicts with what is given by A. Hague in the Voyage Record, where she's said to have detached from the convoy on June 22.
U-A came up to ask the usual questions about ship and cargo etc., then promised to try to send help, before taking off again. A southbound ship passed by very close about 20 minutes later, but thinking the U-boat might still be in the vicinity, they did not use their flashes to make themselves known, and thereby rescued, for fear of putting that ship in danger as well, so the vessel passed by without having seen them.
They remained at the scene until dawn to see if they could find the rafts in order to get some more supplies from them in case they had to stay in the lifeboats for a long time, the nearest land being about 300 n miles away (Cape St. Vincent). Shortly after they had replenished their suppplies from 2 rafts at about 04:30 they spotted a ship which saw their signals and came over to pick them up. This was the British D/S Brutus (Captain Hopper), which landed them in Plymouth on July 1. The maritime hearings were held there on July 4-1940 with the captain, the 3rd mate, the 1st engineer, Able Seaman J. Storheim (helmsman), and Jr. Ordinary Seaman J. Olsen (lookout) appearing.
U-A continued on south to the Cape Verde Islands and her next Norwegian victim was D/T Sarita.


Captain
Einar Hansen

1st Mate
Finn Wetteland

2nd Mate
Per Stinessen

3rd Mate
Birger Bjørkhaug

Carpenter
Olai Guttormsen

Boatswain
Petter Kolstad

Able Seaman
Johannes Storheim

Able Seaman
Åge Kongsro

Able Seaman
Thorleif Helmers

Able Seaman
Arnt Bjørkelund

Ordinary Seaman
Sverre Olsen

Ordinary Seaman
Magnus Ulverud

Jr. Ordinary Seaman
Just Olsen

Deck Boy
Ivar Flaten

1st Engineer
Oliver Seim

2nd Engineer
Konrad Jamne

3rd Engineer
Johan Fjeldstad

Electrician
Fritz Stavem

Mechanic
Johannes Karlsen

Mechanic
Johan Stenberg
(Finnish)

Mechanic
Leif Jørgensen

Oiler
Harry Todal

Oiler
Håken Espeland

Oiler
Arild Stenberg

Engine Boy
Odd Knudsen

Steward
Arne Hammer

Cook
Aksel Ragnvaldsen

Galley Boy
Elias Langøen

Mess Boy
Peder Leksnes

Saloon Boy
Anton Vedaa
Back to Crux on the "Ships starting with C" page.


Other ships by this name: Bergenske D/S also had a ship named Crux after the war, delivered from Pennsylvania Shipyards Inc., Beaumont, Texas in Apr.-1944 for the United States War Shipping Administration, New York under the name Cape Faro, 5231 gt. Sold to Det Bergenske Dampskibsselskab in Dec.-1946 and renamed Crux for use in Den norske Syd-Amerika Linje. Sold in June 1951 to Det Nordenfjeldske Dampskibsselskap, no name change, on a 3 years time charter. Later had 4 more owners, and various names: Grey Master, Siredal, Sunfalcon, Concordia Falcon, Sol Tulla, Scandia Falcon. Eventually sold to Taiwan in 1972. Departed Hong Kong on Jan. 16-1973 in tow for Kaohsiung, presumably for breaking up. Another Crux was delivered to Bergenske D/S in Sept.-1956. Renamed Sunrise in 1964, Crux in 1967, Concordia Crusader in 1968, Crux again that same year. Sold in 1969 to owners in Piræus and renamed Pacific Klif. Sold in 1978, renamed Agios Gerassimos. Broken up in 1982. In May-1958 a ship named Cap Domingo was delivered to German owners. This ship was purchased by Bergenske D/S in March-1970 and renamed Crux. Sold to Yugoslavia in 1973, renamed Marko Polo. Broken up in 1985. Lillesand Sjømannsforening's website has more details on these ships (w/pictures - external link).


The text on this page was compiled with the help of: "Bergenske, byen og selskapet", Dag Bakka Jr., "Nortraships flåte", J. R. Hegland, "Sjøforklaringer fra 2. verdenskrig", Volume I (Norwegian Maritime Museum), and misc. others for cross checking info. - ref My sources.