M/T Bianca
Updated Jan. 24-2013
To Bianca on the "Ships starting with B" page.

Crew List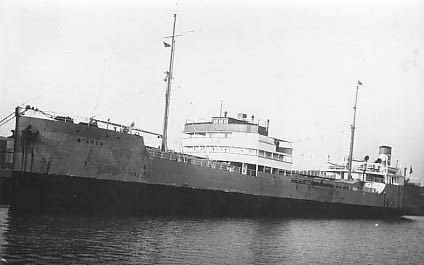 From Bjørn Milde's postcard collection.

This shows Bianca in the fall of 1939, next to the whale oil factory Lancing.
Received from N. K. Westlie, Norway (from his father-in-law's own collection).


Owner: Rederi-A/S Mascot.
Manager: Arth. H. Mathiesen, Oslo
Tonnage: 5688 gt, 3339 net, 8753 tdwt.
Call Sign: LCER.
Built by Götaverken A/B, Gothenburg in 1926.
According to this external page, she was delivered in May-1926 as Bianca Rederi A/S Damp (Arth. H. Mathiesen), Oslo. Owned from 1930 by Rederi A/S Mascot, same managers.


Captain: Arne Grønningseter.


Please compare the above voyages with Arnold Hague's Voyage Record below.


Voyage Record
From March-1940 to March-1941:
(Received from Don Kindell - His source: The late Arnold Hague's database).
Follow the convoy links provided for more information on each.
1940
March 8
Freetown
–
–
Independent
–
March 19
Joined SL 23
Liverpool
March 22
SL 23
A. Hague says:
Joined at sea March 19.
Convoy available at SL 23
See also narrative below & SLF 23
(external links)
Apr. 3
Liverpool
Kingston Jamaica
Apr. 19
Independent
–
May 9
Kingston
Aruba
May 11
Independent
–
May 14
Aruba
Gibraltar
May 30
Independent
–
May 30
Gibraltar
Marseilles
June 3
Independent
–
June 8
Marseilles
Gibraltar
June 11
Independent
–
June 24
Gibraltar
–
–
HGZ
–
July 1
From HGZ, joined SL 36
Downs
July 3
SL 36
Convoy available at SL 36
(external link)
July 17
Southampton
Clyde
July 21
–
Missing movements, archive document
Oct. 22
Clyde
Avonmouth
Oct. 26
Independent
–
Nov. 2
Avonmouth
Barry
Nov. 3
Independent
–
Dec. 23
Barry
Milford Haven
Dec. 24
Independent
–
Dec. 25
Milford Haven
Belfast Lough
Dec. 27
OB 265
A. Hague says:
With engine defects.
Convoy available at OB 265
(external link)
1941
Jan. 3
Belfast Lough
–
–
OB 269
Dispersed Jan. 6.
Convoy available at OB 269
(external link)
Jan. 6
Dispersed from OB 269
Curacao
Jan. 24
Independent
–
Jan. 24
Curacao
Trinidad
Jan. 27
Independent
–
Jan. 30
Trinidad
Bermuda
Febr. 5
Independent
–
Febr. 7
Bermuda
–
–
BHX 108
–
Febr. 12
Bermuda portion joined main convoy
Clyde
Febr. 26
HX 108
Convoy will be added
See ships in HX convoys
(also, archive document)
March 6
Clyde
–
–
OB 294
Dispersed in 51 29N 20 30W March 9.
Lost post dispersal.
Convoy available at OB 294
(external link)
March 9
Dispersed from OB 294
Taken as prize
March 15
Independent
A. Hague says:
Intercept by Renown, scuttled March 20.
See "Final Fate" below


For information on voyages made in between those mentioned here, please see the document received from the National Archives of Norway and A. Hague's Voyage Record above.

Bianca is listed as bound for Liverpool with whale oil in station 33 of Convoy SL 23, which departed Freetown on March 9-1940 (March 5?) and arrived Liverpool on the 22nd, having been joined en route by Convoy SLF 23 on March 19. Bianca is said to have joined the convoy at sea on March 19, and I'm not sure if this means she had not started out in Freetown? It could also mean that she had sailed from Freetown with the SLF convoy (she's not listed, however - ref. link in the table above).

When war broke out in Norway on Apr. 9-1940, she was on her way from Liverpool to Kingston, Jamaica, where she remained for 3 weeks - see the archive document. In June that same year we find her in Convoy HG Z, which left Gibraltar for the U.K. on June 24. According to A. Hague, she joined up with Convoy SL 36 en route - see Voyage Record above; Belmoira, Fernhill (also from HG Z), Sandanger and Slemmestad are also listed in this convoy, which had sailed from Freetown on June 15 and arrived Liverpool July 3 (having lost several ships - ref. external link further down on this page).

Bianca subsequently had a long stay in the U.K. - again, see the archive document. At the end of that year she's mentioned, with destination Curacao, in Convoy OB 265, which originated in Liverpool on Dec. 26 and also included Somerville (returned) and Vivi, but Bianca experienced engine problems and went to Belfast Lough, later joining Convoy OB 269 from there at the beginning of Jan.-1941 (departure Liverpool Jan. 3, dispersed Jan. 6 - ref. links provided within the table above). Annavore, Drammensfjord and Estrella are also named in this convoy. Bianca arrived Curacao on Jan. 24, continuing to Trinidad the next day, with arrival Jan. 27. From Trinidad, she proceeded to Bermuda on Jan. 30, joining Convoy BHX 108 from there on Febr. 7, cargo of Admiralty fuel, station 42, destination Clyde. On Febr. 12, this convoy joined up with the main convoy from Halifax, HX 108, and arrived Liverpool on the 27th; Bianca arrived Greenock on Febr. 26. HX 108 will also be added to my Convoys section, in the meantime, please see ships in all HX convoys; the Norwegian Bonde (returned), Brant County, Emma Bakke and Leikanger are also listed.

As will be seen, her next voyage from the U.K. was to be her last.

More information on all the other Norwegian ships named here can be found via the alphabet index at the end of this page, or go to the Master Ship Index.



Related external link:
Ships hit from Convoy SL 36



As already mentioned, Bianca had arrived Greenock from Bermuda on Febr. 26-1941 (Convoy HX 108). She left Clyde again on March 6 in Convoy OB 294* (dispersed March 9), bound for Curaçao in ballast. On March 15 the battle cruisers Scharnhorst and Gneisenau attacked 4 tankers that had belonged to this dispersed westbound convoy, position 40 30N 43 45W. The British Simnia tried to get away, while at the same time sending out a distress signal, but in doing so was sunk right away. The other ships were Bianca and M/T Polykarp, and the British San Casimiro (had also previously arrived the U.K. with Convoy HX 108).
* The ships dispersed from Convoy OB 294 and intercepted by Scharnhorst and Gneisenau, in addition to those already named above, were:
The steamers Mangkai, Rio Dorado, Silverfir, Empire Industry, Sardinian Prince, Myson, Royal Crown, Demeterton and Chilean Reefer, and the tankers British Strength, Athelfoam and the Norwegian Granli. See also Convoy OB 294 (external link - as can be seen, A. Hague has included the Norwegian Hada County and Heina in this convoy, but not Granli. Instead, he has the latter in OB 292, follow the link to my page about Granli).

Escorts were:
Wolverine (J. M. Rowland), Chelsea (R. D. H. S. Pankhurst), Camellia (A. E. Willmott), Arbutus (H. Lloyd-Williams) and Verity (joined March 7, Commander R. H. Mills). Beverley had been detached on March 6 to return to Loch Ewe for boiler water.
Bianca was fired upon by Gneisenau, the 3rd mate was injured (in his foot) by shrapnel which also caused some damages to the bridge, No. 11 tank, the radio room and one of the lifeboats. At first the crew left the ship in 2 lifeboats; the captain was ordered on board Gneisenau. Having found out that Bianca had enough bunkers to reach port, the crew were ordered back to the ship, whereupon a German prize crew of 15 was placed on board and course set for France, with red rectangles painted on her as a sign to German aircraft that she was a captured ship and had Germans on board. Polykarp proceeded in a different direction (see my page about Polykarp), but San Casimiro headed the same way as Bianca.
Allied aircraft spotted Bianca on March 19 in position 45 22N 23 35W, and although the Germans quickly swapped the German flag for the Norwegian one, the British battle cruiser Renown, covering for a northbound Sierra Leone convoy (note that she's listed as escort for Convoy SL 67 from Freetown in this time period - external link) when notified of the situation by the reconnaissance aircraft, understood what the situation was and came to assist on the 20th. The Germans placed explosives in the engine room and pump room of Bianca and opened all the valves, everyone having been ordered to the lifeboats, including 10 of the prize crew. The resulting fires were later extinguished by crew from Renown and the Norwegians ordered back on board. They closed all the deck valves, but the engine room had filled with water and the ship could not be saved. The captain, his wife and little son plus the entire crew were taken on board Renown before Bianca sank in about 44 16N 19 21W. Renown searched for the captured San Casimiro which was found a couple of hours later, but was scuttled.
Scharnhorst and Gneisenau continued their raid immediately after the capture of the above ships, and already the next day(?) another, unescorted group of ships found themselves under attack, the Norwegian D/S Granli being one of them. The 2 German battle ships were spotted that evening by HMS Rodney, but the German ships arrived Brest without further incident on March 22.
The majority of the details in the paragraphs above were extracted from "Nortraships flåte". Judging from some Entries to my Ship Forum it seems as though the events my Norwegian sources have placed on two separate days, may have taken place on one and the same day. This might partly be a matter of different time zones used, as the second incident is reported in my Norwegian sources as having taken place right after midnight on March 16.
The forum postings say: On 15 March 1941 the German battleships Gneisenau and Scharnhorst encountered in the northern central Atlantic scattered ships of a dispersed convoy. Gneisenau sank seven cargo ships and captured three tankers. Rio Dorado, under command of Captain A J Clare, was one of the vessels sunk, in approximate position 42N 43W, and all of her 39 crew was lost. She was on voyage from River Tyne and Oban and her eventual destination was Baltimore; cargo was 3046 tons of coke. Gneisenau was soon after found by the battleship HMS Rodney which was part of the escort for convoy HX 114, but the faster German ship was able to escape and avoided an engagement. This was the German ships' most successful attack while operating from ports in occupied France. Scharnhorst sank the British tanker Athelfoam, the British freighters Demeterton, Sardinian Prince, Myson and Silverfir and the Netherlands freighter Mangkai. Gneisenau sank the British tankers British Strength (together with Scharnhorst) and Simnia, freighters Royal Crown and Empire Industry, the Danish reefer Chilean Reefer and the Norwegian freighter Granli. The Norwegian tankers Bianca and Polykarp and the British tanker San Casimiro were captured (posted by Roger W Jordan, author of "The World's Merchant Fleets 1939").
See also the link to "Battleship Scharnhorst" at the end of this page for more details on this attack.


The following pictures were received from Ken Long, who in turn received them from a friend whose father was an AB on the Renown during that time and left her some photos of the rescue of the crew, as well as photos of the German prize crew taken on board the Renown and a picture showing German survivors picked up by Renown (all these were also sent to me, but I decided not to include them here).
Bianca

on fire.

Capt Grønningseter boarding

Renown

, his wife can just be seen in the bottom right corner of the picture.

The captain's son being carried aboard

Renown

.

Mrs Grønningseter can be seen bottom right hand side of picture.
I've come across a personal account of the capture of Bianca in the book "Sjøfolk i krig" by Leif M. Bjørkelund (based on interviews with Norwegian seamen 50 years after the war). It's the story of Olav Tobiassen, one of the crew members. It states Bianca had been en route from the U.K. to Aruba at the time of the attack. According to Tobiassen he and a Canadian were outside, about 5-6 days into the journey towards France when they saw an aircraft circling above. The 2 men were partly hidden by the gun platform and were able to wave with the help of a white piece of clothing and believed this was seen by the pilot who in turn notified the Renown. When the British ship arrived on the scene and came alongside, the Norwegians as well as the Germans had gone in the lifeboats. Renown launched a boat which fired shots as it came towards them, resulting in a bullet through the cook's shoulder (these may have been warning shots to get them back on board?). By this time the explosives, which had been placed on Bianca earlier, had already gone off, but the crew was ordered back on board, where Tobiassen and the 2nd engineer were told to go down into the engine room to investigate and remove any explosives which may not have gone off yet. The room had already filled with water from the explosions and Bianca was about to sink, so after the crew had again entered the lifeboats Renown sent a couple of torpedoes into her. He does not mention a fire at all.
Tobiassen says that they now searched for the Gneisenau for 6 days before heading for Gibraltar where they were taken ashore, the Germans blindfolded. He adds that before the Norwegians left the ship they all started to sing the Norwegian National Anthem, which prompted the British to sing their own, a moment he says he'll never forget. Once they had rested up for a while, they were given an old rusty trawler to repair and fix up, in which they later travelled to the U.K. to rejoin the merchant fleet.


Crew List - No Casualties:
Norwegian, unless otherwise noted
Captain
Arne Grønningseter

1st Mate
Sverre Einarsen

2nd Mate
G. Schmidt

3rd Mate
N. Barth Hansen

Carpenter
N. O. Hansen

Boatswain
E. Hansen

Able Seaman
Jacob Solstad

Able Seaman
J. A. Johansen

Able Seaman
Ole Hamre

Able Seaman
Olav Eikeland

Ordinary Seaman
W. Cobain
(British)

Ordinary Seaman
S. Jensen

Ordinary Seaman
William Hagen

Ordinary Seaman
L. Havden

Ordinary Seaman
Olav Andersen

Ordinary Seaman
William Russel Karlsen

1st Engineer
George Gøthesen

2nd Engineer
P. Ødegaard

3rd Engineer
K. Ottesen

Assistant
H. Bleika

Mechanic
O. Pedersen

Mechanic
O. Tobiassen

Mechanic
S. Haga

Pump Man
H. Jacobsen

Oiler
T. Gundersen

Oiler
R. Baardsen

Engine Boy
P. Turner
(British)

Engine Boy
A. Thompkins
(British)

Steward
J. Svalesen

Cook
P. Leine

Galley Boy
P. Gallagher
(British)

Mess Boy
A. Fjerstad

+ Captain's wife
and child
Related external links:
The Battleship Scharnhorst - This site gives the date March 16 for both incidents. Position given for Simnia, San Casimiro, British Strength, Athelfoam, Bianca and Polykarp is 40 30N 43 45W. The vessels listed for the second incident later in the day are: Granli, the British Demeterton, Sardinian Prince, Silverfir, Royal Crown, Empire Industry and Rio Dorado, the French Myson, the Dutch Mangkai, and the Danish Chilean Reefer.
See also:
HMS Renown - The encounter with Scharnhorst and Gneisenau is mentioned - scroll down to March-1941.


Back to Bianca on the "Ships starting with B" page.


The text on this page was compiled with the help of:
"Nortraships flAte", J. R. Hegland, "Sjøfolk i krig" Leif M. Bjørkelund, "Sjøforklaringer fra 2. verdenskrig", Volume I Norwegian Maritime Museum - (see
My sources
), messages posted to my Ship Forum, and an E-mail received from Tony Cooper, England, whose information in turn was received from a friend (name unknown to me).