Built in Middlesbrough 1929
Built by Smith's Dock Co. Ltd., Middlesbrough (906) as Chr. Castberg in 1929 for Hvalfang. A/S, Sandefjord, 312 gt. Became Panamanian Vestfold II in 1934.
WW II: Hired by Royal Navy in Nov.-1941 for use as a minesweeper. Renamed HMS Nimbus (J 133) in 1942. Served as a danlayer from 1944.
POST WAR: Taken out of service in Febr.-1946, having been sold to Holland in Nov.-1945, rebuilt and renamed Marthe W. Vinke (AM 6) in Oct.-1946. Laid up in 1951, waiting to be sold. Purchased on Febr. 9-1952 by Ballenera Paracas SA, Lima, Peru, renamed Ballenera, later owned by Agencia Maritima de Pisco Ltda., Lima. Rebuilt in 1977 (Empresa Nacianal de Puertas, Lima), renamed La Perla. Ran aground on Apr. 1-1978 near Callao (Lima).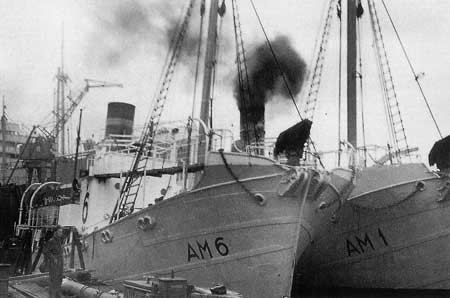 SS Marthe W. Vinke
, AM-6 / Coll. NSA-Vinke & Co., photo Van Es.