D/S Takstaas
To Takstaas on the "Ships starting with T" page.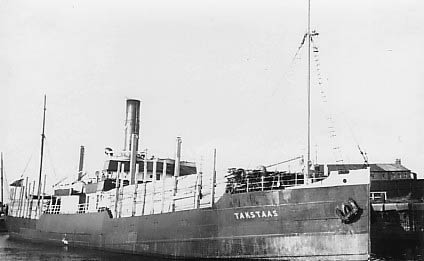 Source: Bjørn Milde's postcard collection.
Another picture is available at Uboat.net (external link).
See also this external page (click in the photos to enlarge).


Manager: Arnt J. Mørland, Arendal
Tonnage: 1830 gt
Built at Fevig, Norway in 1916 (Sørlandets Skipsbyggeri, Fevik, Grimstad). Previous names: Standford until 1917, Stokke until 1927.
According to Uboat.net she was completed in July as Standford for A/S Standard (J.B. Stang), Kristiania. Renamed Stokke for C.N. Stensholt in 1916, then renamed Takstaas for Arnt J. Mørland, Arendal in 1927.


Captain: Kristen M. Eltvedt (later joined Ravnaas as 1st mate and survived her loss. Follow the link for details; see also the crew list for Ravnaas).


Final Fate - 1939 (Norway still neutral):
At 07:45 on Sept. 29-1939,
Takstaas
was stopped by 3 warning shots from U-7 (Heidel). 3 more warning shots were fired after her engine had been stopped. This took place 8-10 miles off Marsteinen light, outside Bergen, Norway when on a voyage from Norrsund, Sweden with a cargo of lumber for London. The captain was ordered across to the U-boat whose commander announced he had to sink
Takstaas
after having been told she was en route to England. Upon returning to his ship Captain
Eltvedt
ordered the crew to the lifeboats and shortly thereafter (at 08:30) a torpedo hit
Takstaas
amidships on the starboard side, causing her to list to starboard. According to Arendal's Seamen's Association's 150th Anniversary Book (Kristen Taraldsen) she straightened up from the initial list, whereupon the U-boat went over to the other side and fired several shells at her, causing her to break almost in two. After a while the foreship sank, while the afterpart stayed afloat and was later saved with most of the cargo intact (towed in and sold to a lumber merchant in Bergen).
The 2 lifeboats headed for land. After about half an hour a Norwegian naval aircraft came over them and continued towards Takstaas. The crew was later taken in tow to Sund in Korsfjord by the Norwegian torpedoboat Storm. From there the lifeboats managed to get to Bergen on their own, arriving that same day. They later got passage (to Arendal?) on the coastal steamer Christiania. There were no casualties.
Jan-Olof, Sweden has sent me a copy of an old newspaper clipping dated Sept. 30-1939. It contains an interview with Captain Eltvedt who states that as they knew the area around Marsteinen was guarded by U-boats they delayed sailing until daylight. After having been ordered on board the U-boat with the ship's papers, he went across in the motor lifeboat and was very politely received by the commander. The captain got the impression that the papers did not interest him all that much, as if he already knew what they contained. Heidel told the captain he was sorry, but it was his duty to sink the ship, and they were given 20 minutes to get off. The 2 boats were about 300 meters away when the torpedo was fired, probably striking in the boiler or in the engine room. When the aircarft appeared the U-boat submerged.
J. Rohwer gives the position 60 15N 04 41E for this incident. "Skip og Menn" (Birger Dannevig) places it at 08:30 the day before, Sept. 28, and states she broke in two while in tow of a Norwegian naval vessel on Sept. 29.


Related external link:
U-7