Owner: A/S Asplund
Manager: Rønneberg & Galtung, Moss
Tonnage: 5069 gt


Launched as Varjag for Br. Nobel, St. Petersburg. Delivered in Sept.-1916 from Göteborgs Mek. Verkstads A/B, Gothenburg (334) as Hamlet to Bruusgaard Kiøsteruds D/S A/S, Drammen, Norway, 5069 gt, 7210 tdwt, 355.1 x 55.2 x 29.4 ft., 2 x 6 cyl. Atlas Diesel, 3200 bhp, 2 propellers. Sold in March-1937 to Prebensens Tankrederi A/S (J. W. Prebensen), Oslo and renamed Credo (registered in Risør).


Purchased in Jan.-1940 by A/S Asplund (Rønneberg & Galtung), Moss and renamed
Realf II
. Laid up in Gothenburg from 1940. My page about
Ships in Sweden
has more information on the Norwegian ships there. (I have a document from the Norwegian National Archives saying she was at Landskrona on Apr. 28-1940).
I've received some information and the following 2 pictures indicating she was used as training vessel while in Sweden. Both pictures were taken by Arnfinn Grande, a friend of Knut Wold's (see Knut Wold's story - Norwegian text) and were received from Karl H. Henriksen, Norway, whose grandfather was the captain of Vinni during the war.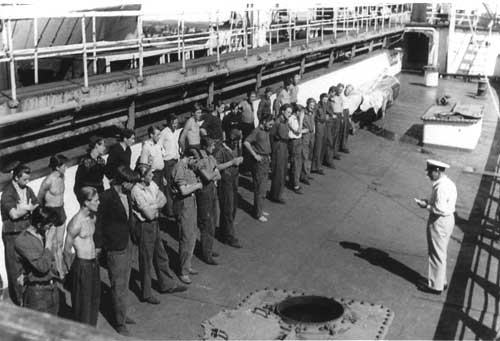 Caption on the back of this picture says "Line-up on the training vessel Realf 2 in the Göta Canal near Lödöse 1943 - chief Hellem from Trondheim.

Caption for this photo says "Aboard Realf 2, training vessel in the Göta Canal, summer of 1943.
From left: Chief Engineer Hybert, Mrs. Svensson, Arne Grøtvik, Knut Wold.


Returned to Norwegian owners in 1945. (A document from the Norwegian Archives, showing some of her 1945 voyages, states she left Gothenburg on Sept. 18-1945 and arrived Methil Roads on the 24th, later proceeding to Willemstad, then back to the U.K., and on to Curacao and Trinidad. In Febr.-1946, she was in Oslo, Norway). Sold in Febr.-1947 to Transoceanica Italiana Esportazione S/A, Rome and renamed
Ariete
. Owned from 1953 by Soc. Marittimi Petroli, Rome, renamed
Sabotino
. Arrived Savona on May 17-1955 for breaking up.