Pelagos
Whale Oil Factory
Updated Sept. 21-2010
To Pelagos on the "Ships starting with P" page.

Source: Bjørn Milde's postcard collection.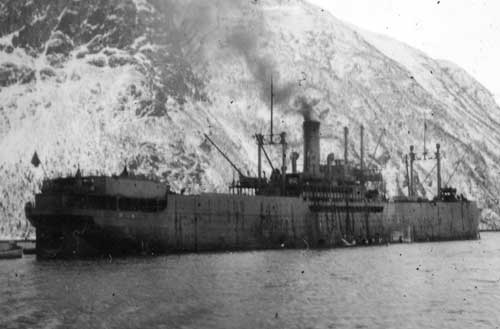 Pelagos off Narvik in 1941. Received from Erling Skjold, Norway

Source: Roger W. Jordan collection.

This shows Athenic - also from Bjørn Milde's postcard collection.


Manager: Bruun & von der Lippe, Tønsberg (this company was associated with Anders Jahre, Sandefjord).
Tonnage: 12 084 gt
Athenic (Pelagos' previous name) was a White Star liner, sister ship to Corinthic and Ionic, converted from passenger/general cargo in 1928 after having been sold to Norway. According to the website that I've linked to at the end of this page (these details used with permission) she had been built by Harland & Wolff, Belfast for Shaw, Savill & Albion, launched Aug. 17-1901, 12 234grt, 7833 nrt, 13 925dwt, Twin screw, 2 x 4 Quadruple expansion by builder, 4800 ihp, 14 knots, 121 1st Class passengers, 117 2nd Class, and 450 3rd Class. She made her first sailing London-Wellington on Febr. 13-1902. The page adds: "Her design incorporated a high capacity for frozen meat and for a high volume of passengers to be carried. Due to a Dock strike at Wellington in 1912 New Zealand farmers had no option other than to load their own carcasses for shipment. On February 28th 1916 she embarked British prisoners of war at Santa Cruz, which had been taken there from the German Raider Moewe, by the prize ship Westburn, the latter was later scuttled. The Liner Requisition Scheme took her up in 1917. She commenced her normal commercial service in January of 1920 and in the May rescued eighty passengers and crew from the American ship Munamar of the Munson Line, which had run aground near San Salvador, they were later landed at Newport. Sold in May of 1928 for use as a whaling factory ship to Brunn & von der Lippe, Tønsberg and converted at Smiths Dock, Tees and renamed Pelagos."


Captain: Fritz B. Gøthesen.


Related items on this website:
Guestbook message from the son of Arne Skretteberg, who served on Pelagos from 1935 till 1940.
Another message - From the granddaughter of Harry Furuhaug, who was on board when Pelagos was captured.
Norwegian Victims of Pinguin
Pelagos crew list 1941
A thread on my Ship Forum - There are are several responses.


Please compare the above voyages with Arnold Hague's Voyage Record below.


  Voyage Record
From Nov.-1939 to Jan.-1941:
(Received from Don Kindell - His source: The late Arnold Hague's database).
1939
Nov. 22
Walvis Bay
S Georgia Whale Grounds
–
Independent
–
1940
March 1
S Georgia Whale Grounds
Capetown
March 15
Independent
Notional sailing date
March 15
Capetown
Walvis Bay
–
Independent
–
March 19
Walvis Bay
Dakar
Apr. 1
Independent
–
Apr. 3
Dakar
Halifax
Apr. 19
Independent
–
Apr. 22
Halifax
–
–
HX 37
Put back to Halifax Apr. 27.
Apr. 27
Detached from HX 37
Halifax
Apr. 30
Independent
–
Aug. 14
Halifax
New York City
–
Independent
–
Aug. 18
New York City
Halifax
Aug. 21
Independent
–
Aug. 27
Halifax
Halifax
–
Independent
A. Hague says:
"Voyage data unknown"
(archive document indicates Curacao)
Oct. 10
Halifax
Curacao
Oct. 18
Independent
–
Oct. 20
Curacao
Montevideo
Nov. 8
Independent
–
Nov. 10
Montevideo
S Georgia Whale Grounds
–
Independent
–
1941
Jan. 14
Taken by Pinguin
Bordeaux
–
Independent
Arrived Bordeaux, March-1941.
(A. Hague also says:
"Arrived Norway 1943").
Compare with:
Norwegian Victims of Pinguin.
Pelagos, with whale oil for Downs, is mentioned in Convoy HX 37, departing Halifax for the U.K. on Apr. 22-1940. She's crossed out on the original form; according to Arnold Hague, she detached from the convoy on Apr. 27 in order to return to port, arriving Halifax on Apr. 30. See also the archive document.


Captured by German Pinguin - 1941:
Pelagos
was captured by the German auxiliary cruiser
Pinguin
on Jan. 14-1941; please continue to my page
Norwegian Victims of Pinguin
for more information about what happened to
Pelagos
and the other vessels on the herding grounds that day. There are also crew lists for the captured ships, as well as more facts about
Pinguin
and link to a list of Norwegian ships captured or sunk by the other German raiders.
The Shaw, Savill & Albion page that I've linked to below states Pelagos was sunk at Kirkenes, Norway in 1944, but as can be seen from my text under Pelagos on the above mentioned page, there's some disagreement and confusion over this (this appears to have been another Pelagos). See also a related thread on my Ship Forum, starting with this query.
Some of her 1945 voyages are shown on the archive document.


Related external links:
Shaw, Savill & Albion - Scroll down to Athenic for a picture and details. (As will be seen the site states she was sunk at Kirkenes on Oct. 24-1944, but raised by the Norwegians a year later and put back into service. Broken up in Germany by Eckardt & Co of Hamburg in 1962).
Pelagos - This page gives the same (erroneous) sinking details. The site also has info on other ships owned by Bruun & von der Lippe - here's the main page.


Back to Pelagos on the "Ships starting with P" page.