D/S Kong Magnus
To Kong Magnus on the "Ships starting with K" page.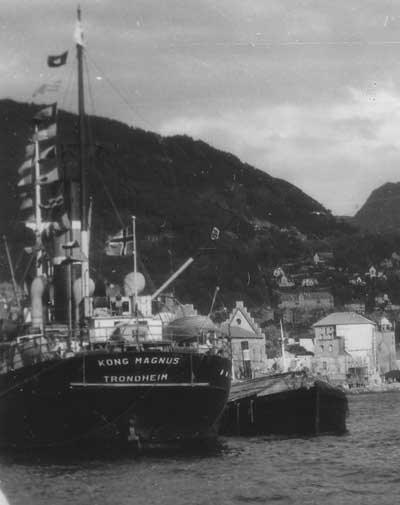 Source: Bjørn Milde's postcard collection.
Another picture is available on this external page (click in it to make it larger).



Manager: Det Nordenfjeldske Dampskibsselskab, Trondheim
Tonnage: 1410 gt

Delivered from Akers Mek. Verksted, Christiania (Oslo) in Sept.-1911 as Cratheus (311) to Empresa de Nav. L. Lorentzen (L. Lorentzen, Christiania), Para, Brazil, 1467 gt, 799 net, 2300 tdwt, 2x Triple exp. steam engines by yard, 1000 ihp. Transferred in 1914 to D/S A/S Cratheus (Ø. Lorentzen), Christiania. Sold in Sept.-1917 to A/S Egerø (Olsen & Ugelstad), Christiania. Sold to A/S Luksefjell (Olsen & Ugelstad), Christiania on Jan. 1-1919 and renamed Luksefjell. Purchased by Nordenfjeldske D/S in Oct.-1924 and renamed Kong Magnus, rebuilt, new tonnage 1410 gt, 718 net, 2150 tdwt.




Ran aground in Ullsfjord, North Troms on Nov. 29-1939, but managed to continue on her own.

She was on a voyage Germany-Norway when the Germans invaded Norway on Apr. 9-1940, proceeded to Gullmarsfjord in Sweden and anchored up. According to a document received from the National Archives of Norway, she was in port in Gothenburg on Apr. 28-1940 and in port in Brodalen on June 10 that year.

She was 1 of 29 ships in Sweden that were included in Nortraship's fleet at the beginning of the war. My page about Ships in Sweden has more information on the Norwegian ships there.

Requisitioned by the Swedish Government on October 25-1940*, and traded for the Swedish State traffic commission. Reported in Dec. 1943 as being surveyed.
* "Nordenfjeldske - 1857-1985" says she was taken over by the Swedish State on Oct. 18-1940, and chartered to Stockholms Rederi-AB Svea. Towed to Gothenburg and repaired before being placed in service.



Returned to Nordenfjeldske in 1945 and placed in the Hamburg service. To Trondheim Mekaniske Verksted in Oct.-1951 for classification, and to be extensively rebuilt. Completed in March-1952 and returned to the Hamburg service. Sold to Belgium in Apr.-1957 for breaking up.



Back to Kong Magnus on the "Ships starting with K" page.



Nordenfjeldske had also previously had a Kong Magnus, built 1884, 1101 gt, delivered as Anna Woermann to C. Woermann, Hamburg, sold to another owner in Hamburg in 1888, then to Nordenfjeldske in 1898, renamed Kong Magnus. Sunk by a German destroyer on Dec. 12-1917, when on a voyage from Newcastle to Trondheim in convoy with a cargo of coal and mail. The crew was saved and taken to Hidra by the British destroyer HMS Rosalind. See also a posting to my Ship Forum.



The text on this page was compiled with the help of: "Nortraships flåte", J. R. Hegland, "Nordenfjeldske - 1857-1985", by Finn R. Hansen, E-mails from R. W. Jordan, and misc.