D/S Fram
Updated June 7-2009
To Fram on the "Ships starting with F" page.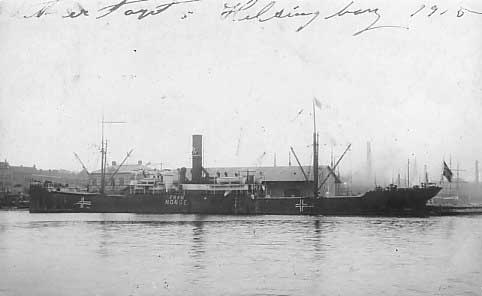 Source: Source: Bjørn Milde's postcard collection.
Another picture is available on this external page (click in it to make it larger).


Owner: Skibs-A/S Corona
Manager: H. M. Wrangell & Co. A/S, Haugesund
Tonnage: 2930 gt
Delivered in July-1907 from Tyne Iron Shipbuilding Co. Ltd., Willington Quay-on-Tyne as Fram to H. M. Wrangell e. a., Haugesund, 2749(?) gt, 1764 net, 4750 tdwt, 313' x 47' x 20.4', Triple exp. 259 nhp (Wallsend Slipway & Co. Ltd.). Registered under Skibs-A/S Coronoa (H. M. Wrangell & Co. A/S), Haugesund from 1929.


Captain: Helmer Olai Almås (in 1940).


Her voyages are listed on these original images from the Norwegian National Archives:
Page 1 | Page 2 | Page 3
Please compare the above with Arnold Hague's convoy info below.
Partial Voyage Record
From Jan.-1941 to Apr.-1941:
(Received from Don Kindell - His source: The late Arnold Hague's database).
Follow the convoy links provided for more information on each.
This record is incomplete.
1941
Jan. 2
Aden
Suez
Jan. 9
BN 12
Earlier voyages, Page 1
From Aden.
Convoy available at BN 12
(external link)
Left Suez for Safaga, Jan. 23
(Page 1)
Febr. 1
Suez
Aden
Febr. 10
BS 14
Convoy available at BS 14
(external link)
Missing voyages, Page 1
Apr. 7
Aden
Port Sudan
Apr. 10
BN 23
Convoy available at BN 23
(external link)
Subsequent voyages:
Page 2 & Page 3
Fram had 7 Norwegian officers, the rest of her complement was Chinese. She was in Bangkok in Apr.-1940, loading a cargo of rice for Manila. From there, she proceeded to Hong Kong, where she received armament - see also Page 1 (her 1941 voyages also start on this document).
In Jan.-1941, she's listed, together with Løvstad, Nordanger and Thermopylæ, in Convoy BN 12, which originated in Bombay on Dec. 27-1940 and arrived Suez on Jan. 9-1941; all the Norwegian ships joined from Aden. The following month, we find her, with a cargo of phosphates and asphalt, in Convoy BS 14, departing Suez on Febr. 2, dispersed Febr. 8, Fram arriving Aden on Febr. 10 (her departure Suez is given as Febr. 1). In Apr.-1941, she's listed in Convoy BN 23, which left Aden on Apr. 7 and arrived Suez on the 13th. Fram, however, was bound for Port Sudan, where she arrived Apr. 10. Estrella and Minister Wedel are also listed; follow the links provided within the table above for more convoy details.
Her subsequent voyages are shown on Page 2. It'll be noticed that she appears to have spent a long time in Lourenco Marques, from July 14-1942 to Nov. 8-1943. Page 3 also shows a long gap in her voyages from March-1945, when she had arrived Durban from Aden.
2nd mate Adolf Sørensen had completed a gunnery course in England and was, therefore, appointed gunnery officer on board in 1943, but had a rather unfortunate "test run" of the new 4" gun they had just installed in Durban. As mentioned, Fram had a Chinese crew and to satisfy their palate the ship had some live pigs and chickens in enclosures on deck. As the gun was fired the air pressure blew the hinges off the doors in the enclosures, resulting in pigs running all over the deck in a panic and all the chickens flapping overboard. The 2nd mate was not very popular with the crew (nor with the captain) after that.


Sold in 1946 to Wah Shang S. S. Co. Ltd., and sailed under the Chinese flag as
Hafon
of Shanghai.
Other ships named Fram: This company had previously had another steamship by the name Fram, delivered in Jan.-1878 to German owners, 305 gt. Purchased from Germany in Oct.-1893 by H. M. Wrangell and renamed Fram. Lost in a storm near Lindesnes on Jan. 23-1900 on a voyage Bergen-Reval (Tallin) with a cargo of herring. Crew was picked up by the Danish D/S Hermia and taken to Mandal, Norway on Jan. 25. Another steamer by this name was built in Lübeck in 1884 for Brødrene Thorvildsen, Tvedestrand, 536 gt. Purchased by Ole Waage, Kopervik in 1900. Departed Hull for Dieppe on Dec. 10-1914 with a cargo of coal and coke but disappeared en route with the loss of 12 men. A lifeboat from the ship was found off Jæren in March-1915. ("Våre gamle skip"). The book "Damp - Dampskipets æra i Vestfold" also mentions a Fram, a steamship managed by Ohlsen & Blom, Fredriksværn (Larvik) - no further info on this vessel. Also, a fishing vessel Fram (H 90 K) escaped from Norway on Apr. 27-1942 with 3 people on board.
(Sweden lost a steamship by this name on Febr. 1-1940, torpedoed and sunk in Aberdour Bay, with the loss of 10 men).