M/S Acadia
Updated July 8-2008
To Acadia on the "Ships starting with A" page.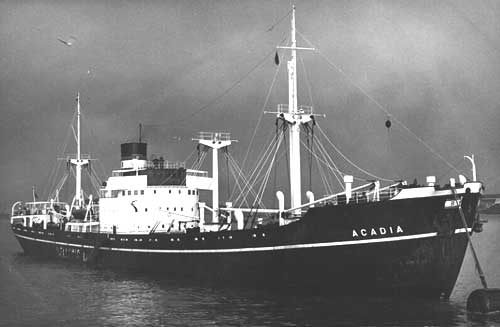 Source: Bjørn Pedersen's collection.


Manager: Sigurd Bruusgaard, Drammen.
Tonnage: 5002 gt
Built in Flensburg, Germany - delivered in 1938.


Captain: Nils Olaf Wilhelmsen.
Mates were Einar Christiansen, Sverre Augestad and 3rd Mate H. T. Oldereid (all through the war until 1946. He was also the radio operator, later settled in Australia). Acadia had an all Norwegian crew in the beginning, but later other nationalities, as several of the Norwegians payed off to join the Norwegian forces.


The following images from the Norwegian National Archives show Acadia's voyages:
Page 1 | Page 2 | Page 3 | Page 4 | Page 5
Unfortunately, arrival dates are missing from Page 4.
Acadia was in Moji, Japan in the fall of 1939 when the war started, and traded between that country and the U.S. for a while. She returned to Norway early in 1940, but left again in March, just a few weeks before the Germans invaded. According to Page 1 of the archive documents, her destination was Vancouver, and she arrived there, via Cristobal and Victoria, BC, on Apr. 17 (later heading to Australia).
After the German invasion of Norway on Apr. 9-1940 it was not uncommon for Norwegian ships to be treated with distrust and suspicion, resulting in quite a few of them being forced into British port by the authorities, and even put under armed guard for a while. This also happened to Acadia as late as July 2-1940 when she was ordered into Fremantle, where military guards were placed on board. She was on a voyage from Melbourne to Colombo at the time, having left Melbourne on June 30, according to the archive document mentioned above, which shows that she left Fremantle again on July 8 and arrived Colombo on the 19th, proceeding to Bombay that same day, with arrival there on July 23.
Arnold Hague has now included her in Convoy BN 3, which left Bombay on Aug. 10-1940 and arrived Suez on the 23rd. He has also listed her, with destination Bombay, in Convoy BS 5, leaving Suez on Sept. 20-1940, dispersed off Aden on Sept. 28 - ref. external links provided below. As will be seen when going back to Page 1, she's said to have arrived Colombo on Oct. 5, leaving for Fremantle the next day (Bombay is not mentioned for this voyage). The Norwegian Germa is also included in this convoy.
Acadia made several voyages in the Middle East early in the war, carrying war supplies from Australia to the Australian forces. She carried phosphate between the Pacific Islands and New Zealand (until 1946), and it appears she had just been to Ocean Island for a cargo of phosphate in Dec.-1940(?) and is said to have been en route to Auckland when M/S Vinni (and others) were sunk; follow the link for details. Auckland is not mentioned for Dec.-1940 on the page showing her voyages for this period (Page 1), but she did make a stop at Auckland in March-1941.
In July-1941 she was in Alexandria and endured air attacks there. She returned to Australia at the time of the evacuation of Crete and again endured air attacks in the Red Sea, but escaped unharmed.
Acadia made 38 voyages to Makatea (French - about 100 n. miles north of Tahiti) - compare with Page 2, Page 3, Page 4 and Page 5. She transported a total of 235 000 tons, travelling 160 727 miles to do it; according to a New Zealand newspaper article in 1945, this was more than any other ship had carried to New Zealand in the war. At the time she was scheduled to return to Norway via Australia for the first time since Norway was invaded (it'll be noticed that Norway is not mentioned on Page 5).


According to
this external page
, she was sold in 1963 to Mercante Cia. Naviera SA (Michael A. Karageorgis), Piraeus and renamed
Aristagoras
. Arrived Kaohsiung for breaking up on July 29-1968.
Related external links:
Convoy BN 3 - The site, based on Arnold Hague's database, also has information on Convoy BS 5.