Til meny for hovedsidene på norsk

My paternal great grandparents, Ola Markusen Hembre (also known as Ola Holmstrøen) and Karen Jakobsdatter Røkkesaunet, parents of Conrad Lauritz Holm.
Oldeforeldrene mine på farsiden, foreldrene til Conrad Lauritz.

Anna Antonsdatter Aas (Bergsve), my great grandmother (Olava's mother).
Oldemor Anna Bergsve, Olava's mor.

Newspaper article on her 100th birthday (1953), and her obituary 3 weeks later (sorry, in Norwegian only).
Avisartikkel i forbindelse med 100-årsdagen hennes i 1953, og dødsannonsen 3 uker senere.

My paternal grandparents, Conrad Lauritz Holm and Anna Olava (Berg) Holm, and an older version of Olava (1960's), which we always called her.
Farmor Anna Olava (Berg) Holm og farfar Conrad Lauritz Holm, og en eldre versjon av Olava (1960-årene), som vi kjente henne som.

The Holm brothers in 1914. Axel, Ola, Conrad Lauritz, Markus and Johan Magnus. Taken in Norway while Johan, who emigrated to America in 1889, was home on a visit. Next to them is my father, Odd Conrad, son of Conrad Lauritz.
Holmbrødrene i 1914, da Johan, som emigrerte til Amerika i 1889, var i Norge en tur. Ved siden av dem er min far, Odd Conrad, sønn av Conrad Lauritz.


My maternal grandparents in 1923.
Sigrid Kristine (Hetland) Torsvik and Andreas Wildner Torsvik
Mormor og morfar på bryllupsdagen i 1923.


Their home in Hegra (x on the roof).
Meierigården i Hegra, hvor de bodde, og hvor min mor vokste opp.

| | |
| --- | --- |
| Andreas Wildner Torsvik | Sigrid Kristine Hetland |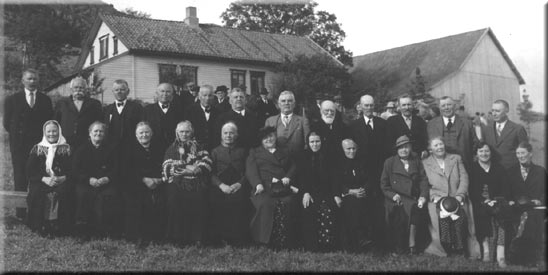 Family Reunion at Hetland Farm - 1938. I have the names of most of the above.
See the Reunion poem (in Norwegian)
Slektstevne på Hetland - 1938. Jeg har navn på dem som er på bildet. Dikt som ble skrevet til stevnet.


The Martin Hetland Family. Sigrid, my grandmother is in the middle behind her mother.
Familien Martin Hetland. Mormor Sigrid er i midten like bak sin mor.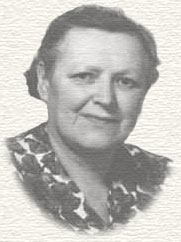 My sweet "mormor" (mother's mother) Sigrid Kristine (Hetland) Torsvik, just as I remember her. She was my mom till I was almost 19.

Gode, snille mormor, akkurat slik jeg husker henne. Hun var min mor til jeg var nesten 19 år.

New Generations / Nye generasjoner

Looking for:
Etterlysninger:
Siri with unknown babysitter - Ny Ålesund, Svalbard - ca. 1949. Next to us is a little friend, Geir - Ny Ålesund, Svalbard ca. 1949-'50. Who is he?
Siri med ukjent passepike - hvem er hun? Ny Ålesund, Svalbard. Og er det noen som kjenner Geir Birger Eggen på bildet ved siden av oss (tatt høsten 1950, 2 1/2 år)?

Here I am at age 5, in my little sailor suit. Every little Norwgian boy and girl had one! My childhood home in Hegra, Norway. We lived in the right half of it.

Åse Siri Holm, 5 år, og barndomshjemmet mitt i Hegra (vi bodde i høyre halvdel).

My mom Åse at age 29, and the two of us, ca. 1956
Min mor, 29 år gammel, og oss to, ca. 1956.

The page Åse's Ships has pictures of the ships she was on, and some of her shipmates.
Siden med liste over Åses båter har bilder av de båtene hun seilte med og noen av dem som var ombord.

Graduatin Class of 1967 - Sarpsborg Høyere Almenskole. I'm the little thing in the front row, 2nd from the left.

Avgangsklassen 1967, Sarpsborg Høyere Almenskole. Jeg står som nr. 2 fra venstre i forreste rekke. Kontakt meg da vel!

And the years flew by.... / Og årene fløy......

...and we had children of our own....
...og vi fikk selv barn....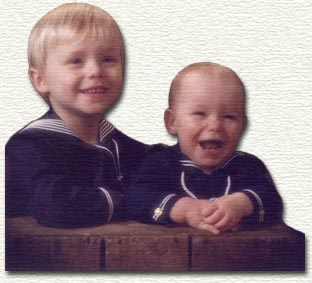 ...and we grew older....
...og vi ble eldre....

..and wiser (?)
..og klokere (?)
A crazy Norwegian (according to the son) picking up her son from Tulsa International Airport, Dec.-1992, and the same Norwegian visiting friends a few years later.
Jeg henter Mitch på flyplassen i Tulsa, desember-1992, og besøker noen venner her på prærien noen år senere.




Carl Lewis, Carleen Sisilie, Åse Siri, and Konrad Mitchell (Mitch)
on a sweltering Oklahoma morning in August - 2000.
En brennende het Oklahoma-morgen i August - 2000.

The boss and her husb... I mean his wife, and Mitch - age 24, Carleen - age 22.
Sjefen og ma..... jeg mener kona, og Gullgutten - 24 år, Gulljenta 22 år.
August 2000.
Carl's webpage | Mitch's webpage | Carleen's webpage





Christmas Eve - 2000
Julaften - 2000

Mother and daughter...
Mor og datter...


and son and father - Christmas Eve. - 2000
og sønn og far - julaften, 2000

Same location, same date, but everyone's a year older
Samme sted, samme dato, men alle er blitt ett år eldre (2001)
Carleen no longer fits her grandmother's bunad, but her mom does, so we swapped.
Carleen har vokst ifra mormors bunad, så hu mor har tatt over.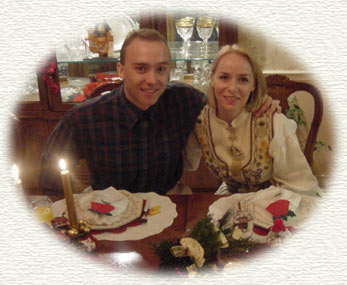 Important events, May and June-2002
Viktige begivenheter, mai og juni-2002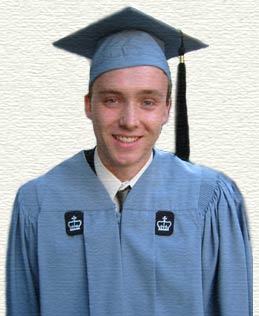 Mitch got his Masters from Columbia University, New York with a degree (his 5th) in International Relations.


..and Carleen graduated from Savannah College of Arts & Design with a degree in Architectural History.
And the biggest event of the year:
Og årets viktigste begivenhet:
See also:
Back to the top | Til toppen av siden

Sidene på norsk: Pages in English: